Plants in high altitude gardens face unique challenges in terms of drying winds,
intense sun, short growing season and frigid temperatures in winter. But none of those factors means that gardeners in the mountains can't enjoy some of the colorful flowers that the rest of the country enjoys. Some of the most popular perennials do well in the conditions offered by high altitude gardens.
The following six plants are all suitable for Zone 3 or warmer at altitudes  up  to 8,000 feet. They were chosen for the long time they will provide color in the garden, some until the first frost.
Blanket Flower (Gaillardia grandiflora 'Goblin')


Although a short lived perennial, it is a workhorse plant and will reward you a plethora of flowers. The plants are soft and hairy, and have dark green foliage. The flowerheads are three to four inches across and have dark red ray flowers with a wide irregular yellow border.
Size: 1' H x 1.5' W
Light: Full sun
Soil: Fertile to average, medium moist, well-drained; drought tolerant
Daylily (Hemerocallis spp and hybrids)

These long lived perennials are easy to grow and come in many different sizes and color combinations. The sword-shaped leaves look good for most of the growing season and the flowers fill the garden with yellow, red, orange, lavender, and purple colors for three to four weeks.
Size: 12-30" H x 18-30" W
Light: Full sun
Soil: Average, medium moist, well-drained
Garden Phlox (Phlox paniculata)


Plants form large clumps and bear large panicles of fragrant flowers 1/2 to 1 inch across in white, lavender, purple, pink, red, and orange. The leaves are two to five inches long and susceptible to mildew although this is less serious a problem in cool areas with wind.
Size: 3-4' H x 2-3' W
Light: Full sun to partial shade
Soil: Fertile, evenly moist
Purple Coneflower (Echinecea purpurea)

Native to North American, purple coneflower is a coarse, hairy plant with branching stems and dark green leave leaves up to eight inches long. The daisy-like flowerheads are borne singly and can be up to six inches across. Each flowerhead consists of purplish pink to white ray florets that slightly droop and a cone-like center with yellow to orange disc florets.
Size:2-6′ h x 1.5-2′ W
Light: Full sun
Soil: Average, medium moist, well-drained; drought tolerant
Orange Coneflower (Rudbeckia fulgida) 'Goldsturm'

Golden yellow best describes the ray flowers of the three to four inch wide flowerheads of this long blooming cultivar. The chocolate brown disc florets form a cone in the center. The foliage is dark green and the plants are hairy and compact, and have strong branched stems.
Size: 2' H x 2' W
Light: Full sun to partial shade
Soil: Average to fertile, medium moist, well-drained
Spike Speedwell (Veronica spicata)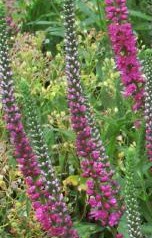 There are several cultivars that are good choices for high altitude gardens; 'Red Fox' (deep pink) and 'Goodness Grows' (dark violet-blue) are two of the best. Flowers are borne in dense spikes; leaves are lanceolate, toothed and about two inches long.
Size: 'Red Fox' 15" H; 'Goodness Grows' 18" H; both spread
Light: Full sun to partial shade
Soil: Average to fertile, moderately most, well-drained