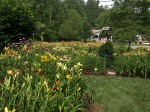 It is daylily season in zone 7 of the North Carolina Piedmont and I have had the pleasure of visiting two daylily farms in the area. If you like daylilies, and even if you are just luke warm on them, I strongly recommend that you find one in your local area and visit it. A mass of daylilies in bloom is a sight to behold but if you are like me you may be overwhelmed with the choices that confront you. A hybridizer told me that there are over 70,000 named, registered, cultivars of daylily. Wow, that's a lot. I took pictures, kept a list, and came home to sort it all out. I came up with a checklist of characteristics to consider when selecting daylilies.
Here are the characteristics you might want to consider:
1. Color: Flower color is usually the characteristic that first catches the eye but the more you look the more you realize that there is more to flower color than you first thought. The basic color is defined by the outer portions of the flowers. All but pure white and pure blue are available.
Yellow-cream, lemon, gold, orange.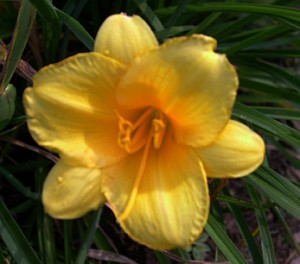 Red-scarlet, carmine, maroon, wine, blackish red.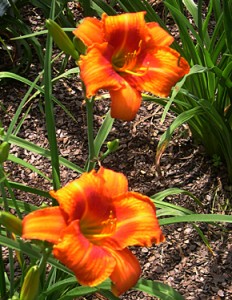 Pink-pale pink, peach, rose red.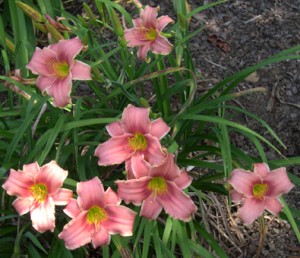 Purple-lavender, lilac, dark grape/violet

You probably noticed that most day lilies have a different color in their center (throat). This is usually yellow, gold, green, orange, apricot, or melon.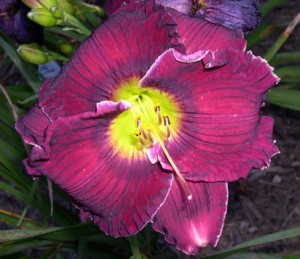 Some day lilies have a band of a different color or darker or lighter shade of the same color between the throat and the tips of the main flower segments.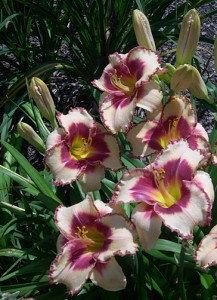 Some day lilies are edged or picoteed, that is they have a narrow band of color on the edges of the flower segments up to ½" across.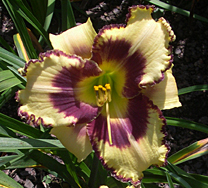 Sometimes the band is ruffled. The degree of ruffle is important too. Some is described as shark's teeth, other as "chicken fat".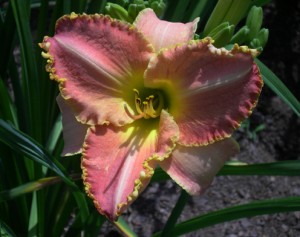 The flowers of some day lilies reflect light and so look like diamond dust. This is not something I could catch with the camera. Bitone (2 shades of the same color) and bicolor (2 different colors) are also possible but less common than others.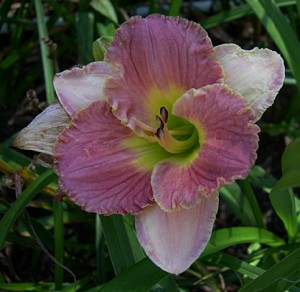 2. Size: Flower size varies from about 1 ½' across while large ones can be up to 9".
The size of the plant varies too. Some plants are up to 49" other are only 12" tall. An important factor is how high above the foliage the flowers are borne. If the flowers are the height of the foliage they will not be visible but it they are 6-12" or more above the foliage they will make a commanding presence in your garden.
3. Form: Day lily flowers take a variety of shapes including …
Circular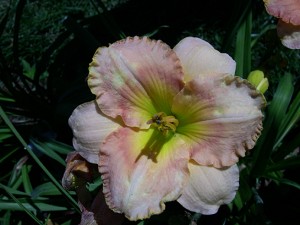 Triangular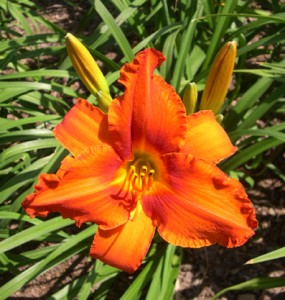 Spider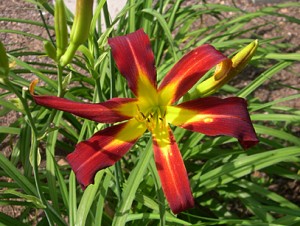 Double (with more than 6 flower segments)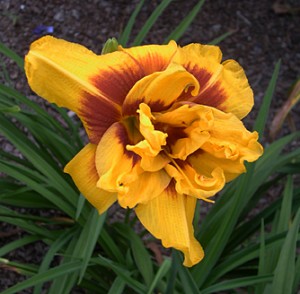 Recurved (when viewed from the side)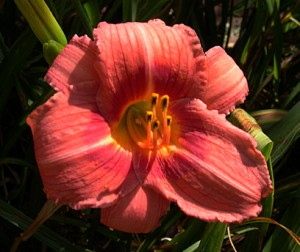 4. Texture: Some day lilies seem as smooth as silk,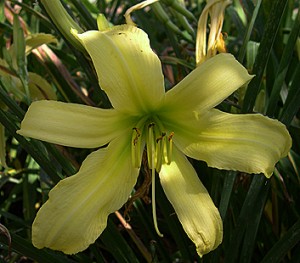 others have a heavy texture,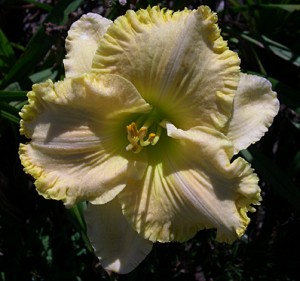 still others are ribbed.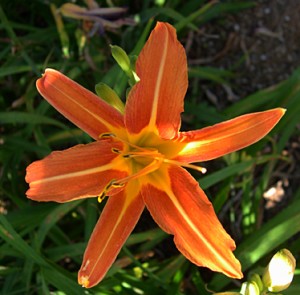 5.Fragrance: yes, some daylilies are very fragrant so bend down and give them a sniff.
6.Bud count: Each day lily flower only lasts one day so you want to check the number of buds that are carried on a single scape (stem on which flowers are borne). A high bud count means many days of flowers so look for day lilies with a bud count of 20 or more.
7. Time of bloom: Day lilies may be early, mid, or late season bloomers. If you want to have a daylily bed that blooms for a long time pick daylilies from all three.
8. Rebloom: Some daylilies rebloom but most do not. Those that do will need deadheading so decide if rebloom is a characteristic that is important to you.
9. Foliage: Daylilies may be evergreen, semi evergreen, or be dormant in the winter. Most are the dormant type but this is not a problem. Daylilies are one of the earliest plants to send up foliage in the spring. If the foliage is killed by frost, no problem, they send up more.
10. Price: Daylilies vary in price from $5 to over $250 for a single fan. The price is not necessarily related to the beauty of the flower. The high priced daylilies are new introductions by breeders who hope that some unique quality of their new day lily will be appealing to other breeders and connoisseurs of daylilies. On my  recent visit to a local daylily farm that carried 450 varieties the prices from $5 to $80. I made my choices price blind and most were $12 or under (4 were only $5.
Most daylilies combine many of the characterisitics in the list above so you have to decide which combination is the most pleasing to you.  Maybe you like a very simple look with no fancy edges or multiple colors.  Fine, there are many daylilies for you.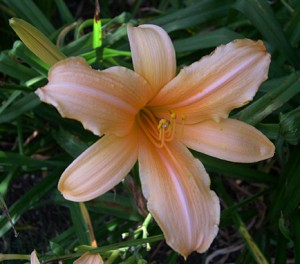 Or perhaps you like a daylily with the works.  There are many for you too.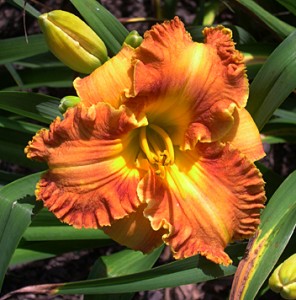 And then there are lots for everyone in between with all sorts of combinations.
If you have never grown daylilies, try them. They are tough, beautiful perennials that will give a great show for very little effort. If you have grown them for years, try some new ones. Hybridizes are creating new ones all the time.
I would like to thank Butterfly Daylily Garden in Lexington, NC, and Pumpkin Ridge Daylilies in Kernersville, NC for their help in preparing this post.