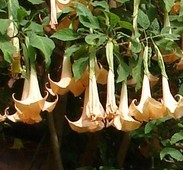 It is hard not to be impressed when you see a Brugmania in bloom. The pendulous flowers are large and trumpet shaped giving rise to the common name, Angel's trumpet. They should not be confused with the genus, Datura, also known as angel's trumpet, which they resemble. Brugmansia are tender shrubs or trees, woody, and have pendulous flowers while Datura are annuals, herbaceous, and have upright flowers. Both are members of the family Solonaceae so are related to potatoes, tomatoes, peppers, eggplant and night shade. All the plant parts of both Brugmansia and Datura are poisonous if ingested.  The genus name Brugmansia honors the 18th century professor of natural history of Leiden, Sebald Justin Brugmans.
Seven species are generally recognized but there are many hybrids available. The species vary from one another primarily in regard to plant size, flower size, fragrance, andflower color. They are grown as garden plants only in zones 10-11 but elsewhere in containers or as annuals. In zones 10-11 plants bloom year around but in cooler climates from summer until fall. They all like rich soil, abundant water and some shade in warm climates. They should be fertilized every two to three weeks during the growing season. If wintered indoors they should be kept at 40-50 F in nearly dry conditions. They can take hard pruning, to within six inches of the ground. Propagate by seeds or softwood cuttings.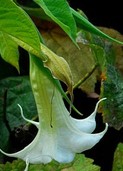 B. arborea
A native of the Andes from Ecuador to northern Chile, B. arborea has white flowers that are strongly fragrant, but only 5-7" long, the smallest flower of genus. Note the long caylx.
Plant Height: 23'
Flower color: White
Flower size: 5-7"
B. aurea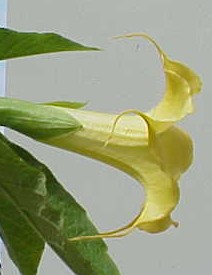 Hailing from the Andes in Venezuela to Ecuador, B. aurea has long, oval, bright green leaves and golden yellow to white flowers that are fragrant at night.
Plant Height:16-33'
Flower color: Yellow
Flower size: 9"
B. insignis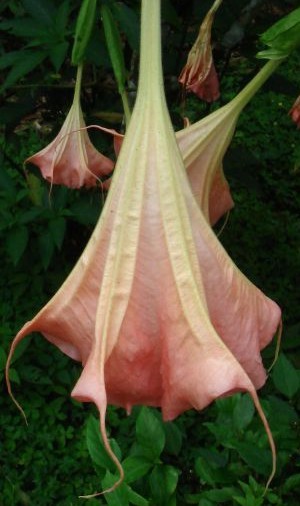 This native of the foothills of the Eastern Andes from Colombia to Bolivia and occasionally Brazil has long thin leaves with wavy edges and salmon, yellow, or white flowers 10-18" long. The flowers are notable for the long tendrils at the corolla edge and the very narrow tubular extensions to the corolla
Plant Height: 10-13'
Flower color: Salmon, yellow, white
Flower size: 10-18"
B. sanguinia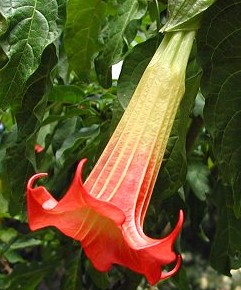 This species is endemic to the Andes from Colombia to northern Chile. The flowers are red, yellow, orange and green but are not fragrant.
Plant Height: 33'
Flower color: red, yellow, orange, green
Flower size: 6-10"
B. suaveolens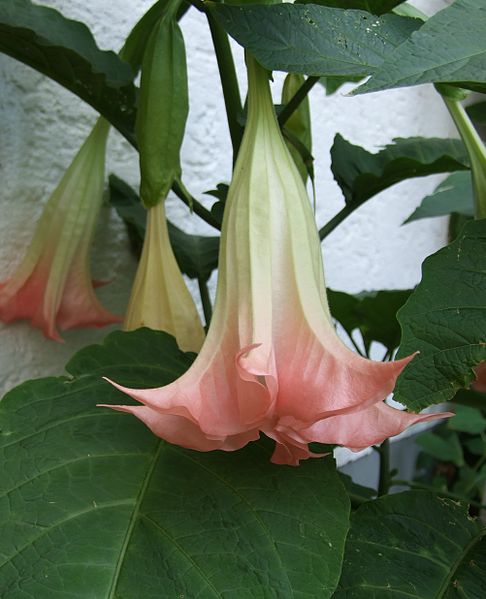 This Brazilan native has oval leaves up to ten inches long and fragrant flowers that are usually white but may be yellow or pink.
Plant Height:10-16'
Flower color: White, yellow or pink
Flower size: 9-13"
B. versicolor


Endemic to Ecuador, this species has the largest flowers of the genus. The flowers open white but may turn pink, peach, or apricot. The leaves are oblong and have smooth edges.
Plant Height: 10-16
Flower color: Peach
Flower size: 12-20"