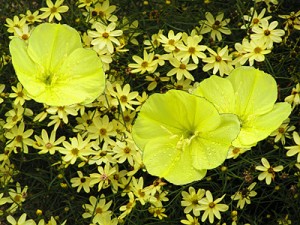 The large bright yellow flowers of Missouri evening primrose echo the color of the Coreopsis 'Moonbeam' while providing contrast in size, shape, and texture. The primrose flowers are funnel-shaped, three to five inches across and have paper thin petals while the coreopsis flowers are daisy-like, one to two inches across, and have substance. Both plants do well in full sun and dry soil and make a stunning combination in summer. The primrose struggles in the heat and humidity of the South so the combination may be of short duration there but even in the South, Coreopsis 'Meanbeam' continues to bloom into August.

Coreopsis verticillata 'Moonbeam'
This rhizomatous perennial is easy to grow and forms a fine textured mound with tiny leaves and an abundance of flowers through a long bloom season. In mid- to late summer plants can be sheared to

encourage a fall bloom.
Bloom Time: Late spring to mid to late summer, with rebloom in the fall if sheared.
Size: 18-24" H x 18-24" W
Hardiness: Zones 3-9

Missouri Evening Primrose (Oenothera missuriensis)
Also known as Ozark sundrops, this native plant produces fragrant flowers on trailing red stems. The flowers open in the evening and until the following morning. The lance-shaped leaves are one to four inches long and the sepals are often spotted in the bud state.


Bloom Time: Late spring to mid-summer, less in hot, humid areas
Size: 6" x 6-12" W
Hardiness: Zones 4-8.