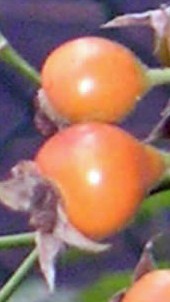 Hybrid musks date to the early twentieth century so must be considered modern roses. Although their parentage includes the musk rose (Rosa moschata), it also includes other parents such as multiflora rose ( R. multiflora), noisettes, teas, and hybrid teas. The result is that hybrid musks resemble their namesake mush less than their name suggests. In general, hybrid musks are loose shrubs in cool climates and climbers in warm ones. They produce good sized clusters of scented flowers, are repeat bloomers, and have good disease resistance. Some have attractive hips that greatly add to the beauty of the garden in fall.
Here are five outstanding hybrid musks that produce attractive hips. The hips tend to be orange to red and may be large or small.
They are beautiful in flower arrangements.
'Ballerina'


Notable for it weather tolerance and masses of dark to light pink apple-blossom like flowers produced all season long. Hips are small, arrange and abundant.
Origin: Bentall, England, 1937
Parentage: NA
Flower Size: 1.2"
Petal Count: 4-8
Scent: Mild, musk
Flowering: Almost continuous
Plant Size: 4-6' H x 5-6' W
Hardiness: Zones 4-10
ARS Rating: 8.5
'Buff Beauty'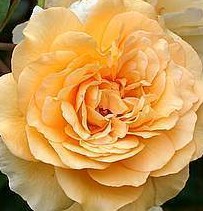 Most widely grown hybrid musk with outstanding apricot color that changes with the season and year. With its lax habit it is often grown as a climber in warm climates. Good display of hips.
Origin: Bentall, Britain, 1939
Parentage: 'Willaim Allen Richardson' x unknown
Flower Size: 3.1"
Petal Count: 45-50
Scent: Strong, tea
Flowering: Repeats well
Plant Size: 4-10' H x 4-8' W
Hardiness: Zones 5-10
ARS Rating: 8.4
'Kathleen'


Coral buds open to pale pink flowers that fade to white. Hips are small and red. Stems are almost thornless.
Origin:Pemberton, Britain, 1922
Parentage: 'Daphne' x 'Perle de Jardins'
Flower Size: 1.6
Petal Count: 5-16
Scent: Medium, musky
Flowering: Continuous
Plant Size: 6-15' H x 4' W
Hardiness: Zones 6-10
ARS Rating: 8.5
'Penelope'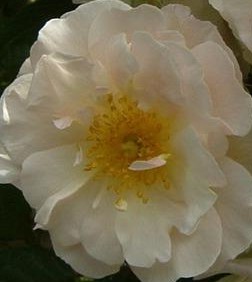 Clusters of up to 60 shell pink flowers fade quickly to white. Large coral pink hips follow in autumn.
Origin: Pemberton, Britain, 1924
Parentage: 'Trier' x 'Ophelia'
Flower Size: 2-4"
Petal Count: Up to 25
Scent: Strong, sweet, musky
Flowering: Repeats well
Plant Size: 3.5-8' H x 3.5-5' W
Hardiness: Zones 5-10
ARS Rating: 8.7
'Will Scarlet'


Red flowers fade to lilac pink in hot weather. Large orange-red hips persist on bush.
Origin: Hilling, Britain, 1950
Parentage: ighter red sport of 'Wilhelm'
Flower Size: 2.5-3
Petal Count: 9-16
Scent:Medium, musky
Flowering: Repeats
Plant Size: 5-8' H
Hardiness: Zones 5-10
ARS Rating: 8.2