The sight of an English garden inspires many of us, but alas, few will ever be able to really have one. If you are lucky enough to live in the Pacific Northwest you can come very close but for those of us who garden elsewhere the task is formidable. Or perhaps it isn't. Maybe by using a few key elements, we can achieve the look of an English garden.
So, what are the essential elements of an English garden? Here is a list of characteristics that are typical of English gardens. You can choose the ones you like to give "the look."
Layout


Formal. If you like the formal look, lay out the beds symmetrically, with straight lines.


Cottage. You can have an informal cottage look by using an asymmetrical layout with curved lines and no angles (use a flexible hose to determine you borders' edges.)
Site


Most long blooming plants that you want in your flower beds need at least 6 hours of sun every day, well-drained soil, and about 1" of water per week. Pick an area that gets sufficient sun and you can amend the soil and bring in the water if necessary. There are certainly English borders for shade but the goal of creating abundant flowers for a long bloom season will be more difficult in shade than if the garden is in the sun.
Backdrop


Walls, fences and hedges are used in many English gardens to create a backdrop for the plants and provide a sense of enclosure. Walls are the most expensive and permanent backdrop, but fences and hedges can provide the same feeling. Even the side of your house, garage, or tool shed could be a plus as a background element.
Plants


Plant selection. Certain plants seem the quintessence of an English garden. Try to include such favorites as delphinium, hollyhock, phlox, foxglove, lupine, bee balm, roses and If you are going for the formal look include some topiary, clipped box as a low hedge, or pots with carefully groomed plants. Cottage gardens frequently include edible plants so plant some herbs, vegetables, fruit and nut trees in your borders.

Abundance. The English use a very large number of different perennials with annuals and biennials filling in the gaps but you can change that and let the annuals (and biennials) play a more important role. The important thing is to get that look of abundance continually through the growing season.

Variation in texture, form and color. Think about the various differences in texture that are possible with plants. Consider foliage for example: the fine leaves of Dianthus , the coarse leaves of hollyhock, the medium leaves of rose bushes. Picture the differences in the color of foliage: the gray of dusty miller, the yellow of barberry 'Bonanza Gold', or the dark red of smoke bush. Contrast the shapes of a round daisy, spike like veronica, or trumpet shaped lily. Find pleasing combinations of textures, shapes and color to enhance the overall interest and beauty of your garden.

Color. Pick a color or color scheme and choose plants that carry out that scheme. For example, white gardens are especially pleasing. Think about the foliage color as well as the flower color and you can include artemesias, various yarrows, and variegated iris in a white garden. A pastel border favored by the English might feature Pervoskia (Russian sage), a pink rose, and white garden phlox. A hot border might use scarlet Crocosmia, orange helenium, and yellow goldenrod.

Grouping. Position your plants in groups of odd numbers, 3s, 5,s, 7s etc depending on the size of the plants and the area you want to fill. Avoid straight lines and drifts if you want the cottage look and work towards making the plants look as though they grew in their place by accident.
Ornaments


Seating.
Once you have created beautiful beds you will want to sit and enjoy it. A wooden bench is a favorite in English gardens but anything that allows you to rest and contemplate in your garden will work. Be sure to surround your seating with plants that have fragrant flowers or leaves like lavender, or rosemary, or plants that are fun to touch like Lamb's Ear.

Arbor, gazebo and pergola.
What is prettier than an arbor smothered in a cloak of roses? or a pergolas heavy with wisteria? Plant climbing roses such as the pale pink Awakening or New Dawn on the arbor that serves as an entryway to your garden; or on a gazebo so you can enjoy the fragrance when you sit inside. Add clematis such as Nelly Moser and let it climb through your roses to give a double treat. If you don't have the room or inclination to have a large structure such as these, try a trellis that could be secured against a wall and used to train a climbing rose.

Statuary
Statuary can be as simple as a small bird from Target to the ¾ life sized Hebe of mythological fame from a fancy garden center. It would be nice to have a marble statue but a concrete one will look very nice among your plants at a fraction of the cost. A birdhouse on a pole, gazing ball, or sundial also adds interest and whimsy to the look.

Water Features
A fountain is a great addition to a garden because it brings sound. A large fountain in the middle of a garden can be the focal point but a small fountain mounted on a wall or pillar can be effective too. You can make a fountain by using a decorative ceramic pot that is available in various sizes and colors or by using just about any container that strikes your fancy. A birdbath is a nice way to attract birds and give sparkle and reflections to the flowerbed. Of course, a pool or pond would be a wonderful way to introduce another whole niche so that you could add water plants to your garden.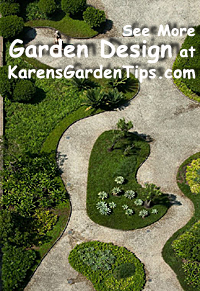 Lawn
The green of a well-tended lawn around or in a garden is a beautiful thing. Unfortunately lawns require considerable care so plan your lawn according to your inclination to take care of it.
Paths
As you plan the beds and lawn you will probably want to have paths to use when you stroll through the garden. They can be small or large, winding or straight, of grass, brick, stone or gravel. Place some scented plants along the edge so that you can brush by as you walk and enjoy their fragrance. The important thing is that your paths move you through the garden easily and allow you to enjoy your garden to the fullest.