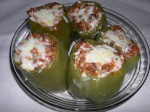 When frost threatens we go out to the garden and gather up all the produce left on the plants and sometimes we have a plethora of green peppers. On these wonderful occasions we often make a batch of stuffed peppers that we have for a couple of night's dinners. The slowest part of this recipe is boiling the water to parboiling the peppers so get the water going while you cut up and cook the other ingredients.
Ingredients:
4-6 medium bell peppers
1 pound lean (at least 80%) beef
½ cup chopped onion
1 clove minced garlic
1 teaspoon Italian seasoning
1 (14 oz) can diced tomatoes or diced tomatoes with chilies
1 (8 oz) can tomato sauce
1 cup instant rice
¼ cup water
salt and pepper to taste
½ cup mozzarella cheese, shredded
Directions;
1. Cut off the tops of the peppers and remove the seeds and membrane. You may cut the peppers in half length wise or leave them whole.
2. Parboil the peppers in boiling water for 5 minutes, drain and set aside.
3. Saute beef and onions in large skillet until lightly browned. Add a touch of oil if beef is very lean.
4. Add all the remaining ingredients except the mozzarella cheese, mix thoroughly and bring to a boil. Reduce heat, cover, and cook 15 minutes.
5. Stuff the peppers with the meat-rice mixture.
6. Arrange the peppers in a low baking dish; if you have any extra stuffing arrange it around the peppers.
7. Cover with aluminum foil and bake at 350 degrees for 30 minutes.
8. Uncover and sprinkle the peppers with mozzarella cheese.
9. Bake 5 minutes more until cheese is melted.
You can substitute sausage for the hamburger or use a combination of ground pork, beef, and veal. Serve with corn bread.