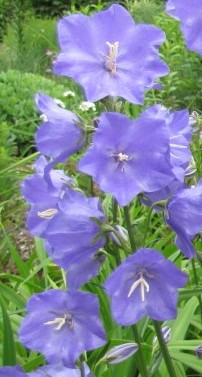 Peachleaf bellflower is an herbaceous perennial native to the mountains of Europe, North Africa, and Asia where it grows in meadows and woodland edges. It forms a evergreen basal rosette of leathery leaves that are narrow, four to eight inches long, and have rounded teeth. The stem leaves are similar but only two to four inches long. In early summer each stem carries a loose raceme of one to several blue-violet flowers that are broadly bell-shaped, 1.5 inches long, and erect to nodding. Many cultivars are available providing flowers in white and different shades of blue, as well as semidoubles and doubles. Plants do well in areas where night time temperatures do not go above 70 F. In zone 8 the colors are faded and plants only last one to two years. Although many species of bellflower are vase-worthy, peachleaf bellflower has the longest vase life.
Cutting: Can be cut when first buds open as buds will continue to open in the vase.
Conditioning: Place stems in cold deep water for a few hours
Preserving: Not relevant
Cultivation:
Size: 1-3' h x 2' W
Light: Sun to part shade
Soil: Fertile, medium moist, well-drained
Hardiness: Zones 3-8
Propagation: Seed, division in spring or fall, basal cuttings in spring
Care: Remove flowering stems after flowering; cut back all stems in fall.