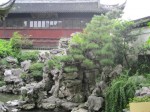 A visit to Shanghai can be daunting when you figure that there are 24,000 people per kilometer not counting the huge tourist population. Since the city is wall to wall people and cars, visiting a garden in the middle of the city is very appealing. We were in Shangai as the Expo was winding down so the city probably had more tourists than usual but we were disappointed to find that the garden was crowded too. Crowded or not, Yuyuan is lovely, interesting, and well worth visiting.
The garden is located in the center of the old city of Shanghai and is surrounded by a bazaar with shopkeepers and eating places of all sorts including the one with golden arches. It is a classical Chinese garden originally dating back to the Ming dynasty in the 1500s. It occupies about 5 acres and was originally built by Pan Yunduan over a 20 year period for his father Pan En, a high-ranking government official. It has seen bad times and good over the centuries, but was restored beginning in 1956 and was opened to the public in 1961.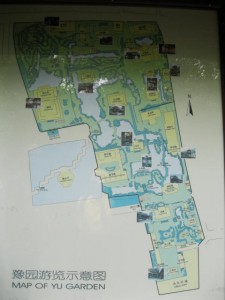 A wall separates the garden from the busy surroundings, but an imposing gate allows you to enter.