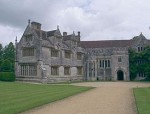 Twenty acres of formal gardens enhance the 15the century manor house of Athelhampton, owned and operated by the Cooke family. The formal gardens, inspired by Renaissance models, were designed by Francis Inigo Jones between 1891 and 1899 and are in sharp contrast to the cottage gardens that were coming into fashion at the time. The plan of Jones included a Great Court with terrace, pavilions, pool, fountain and yews shaped into giant pyramids. A cloister, walled kitchen garden, white garden, rose garden, large dovecote, topiary, numerous fountains, and statues added over the years provide an interesting and enjoyable visit.
As you travel up the main road to the house the large dovecote in the middle of a grassy area on the left catches the eye. It was built in the 16th century and has nesting space for 1,500 birds inside and a lantern with stages for 40.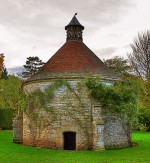 On the south side of the house is the Great Court and it is a knockout! Twelve giant yews clipped into 30' pyramids adorn the lawn. Notice the size of the people in the picture to really get a feel for just how huge and impressive the yews are. I would love to be present when the clipping takes place. This garden was originally laid out with boxwood edged parterres with roses but was changed over to the present plan after World War II.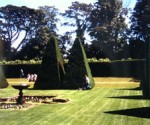 At the south end of the Great Court is a terrace and two pavilions; the one on the western side with smiling face over the door is the house of joy and summer; the eastern one with a tortured face and icicles over the door, is the house of Sorrow and Winter.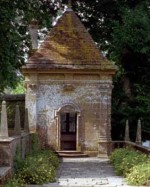 Just north of the Great Court is the Corona, a smaller intimate garden featuring an unusual wall that echoes the shape of the pyramidal yews of the Great Court with its obelisks. Notice how the dark green yews behind the wall form a perfect backdrop for the orange tinted Ham stone.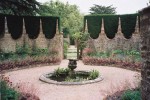 On the east side of the house is the Private Garden with its long pond and croquet lawn.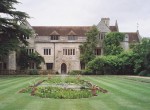 The Cloister garden features an octagonal pool and pleached lime trees.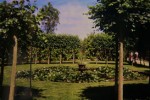 Roses may be seen in the rose garden or elsewhere as here, cascading over a pergola or walls.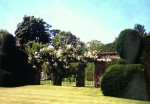 A river runs through the property and over 7 acres have been developed to provide food and habitat for wildlife. Plan to spend 2-3 hours to enjoy this lovely garden, more time if you want to visit the house too.