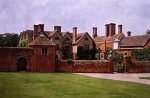 The gardens of this Tudor manor house are a real treat for a gardener. The timber-framed farmhouse built in the mid 16th century is interesting, but the gardens that accompany it are worth a visit by themselves. There are two main areas of the garden; the Yew Garden and the Carolean Garden. The topiary yew garden is the most famous and was probably begun between 1650 and 1670 and enlarged at a later time. The Carolean Garden with the beautiful brickwork of its walls, walkways, stairs and gazebos, was begun in the mid 18th century and altered in subsequent year to include a sunken garden with lush perennial beds.
The Carolean Garden is bounded on 3 sides by a brick wall on the 4th by a raised terrace with gazebos in all 4 corners. The oldest gazebo dates to 1680 and has a small furnace and flues with which to heat the adjoining wall used for growing tender fruit trees. The three other gazebos resemble the first but were built at different times.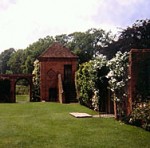 The west wall of the Carolean Garden features buttresses of yew that divide the border into compartments planted with roses.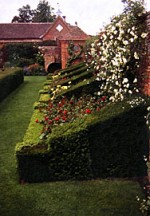 A sunken garden occupies the center of the Carolean Garden with a small rectangular pool in its center and steep borders of flowers around the perimeter.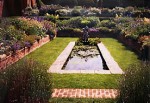 The raised terrace that separates the Carolean Garden from the Yew Garden has a stone path with thickly planted borders.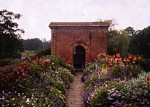 Bee boles are built into the retaining wall of the raised walk for bee skeps.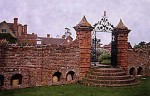 The bee skeps are modern but give you an idea of how the wall looked when used for raising bees.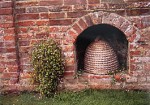 The crowning glory of the Packwood Garden is the Yew Garden with its "Sermon on the Mount" The story goes that the huge yew on the grassy mount represents Christ and the 12 yews leading to him in straight lines represent the apostles, the 4 largest being the evangelists. A "multitude" of yews stands around them. Christ and the 12 apostles were planted between 1650 and 1760 while the multitude was planted in the 19th century to surround an orchard that has since disappeared.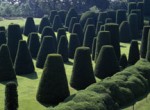 An afternoon visiting Packwood Garden is time well spent. The flowers beds brim with flowers and adorn the walls with their color while the house adds the stately grandeur of times past and the yews watch over it all.