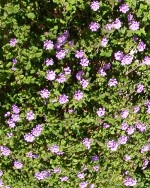 Whether you are planting a window box, hanging basket or urn, cascading plants can be an important part of the design. They give a gentle flow to the container and add a lush appearance. They can help draw color through the arrangement and create continuity and rhythm. Used with other plants with similar soil and light requirements they can provide contrast or echoes texture, shape and size.
Here are five cascading plants that keep their good looks and add to the beauty of the container all season long.

'Kewensis' Trailing Euonymous (Euonymous fortune 'Kewensis')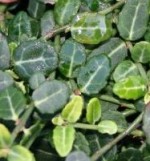 This evergreen perennial has a low trailing habit and roots as it spreads and will climb if it reaches a vertical surface. The rounded leaves are pea sized and dark green. Pair it with a small rose such as 'Little White Pet', a repeat bloomer, for a long lasting container.
Type: Evergreen perennial
Size: 1-3' H x 1-3' W
Light: Sun to part shade
Soil: Average, moist, well-drained
Hardiness: Zones 4-8

'Weeping'Lavender' Lantana (Lantana montevidensis 'Weeping Lavender')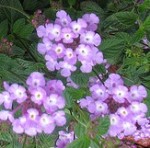 A tender perennial grown as an annual in zones 7 or colder, 'Weeping Lavender' lantana blooms from spring to frost. Its lavender flowers are produced abundantly on trailing or spreading plants and attract butterflies. A great plant for the heat and humidity of the South and also drought tolerant. Looks good with dark purple leaves of 'Purple Knight' alternanthera and a peach colored geranium like 'Schoene Helena'.
Type: Perennial zones 8-11 but usually grown as an annual
Size: 6-12" H x 24-36" W
Light: Sun to partial shade
Soil: Average, well-drained; drought toleranat
Hardiness: Zones 8-11

'Glacier' English Ivy (Hedera helix 'Glacier')


There are any kinds of English ivy and this one is a beauty with its evergreen, silver-gray variegated leaves. It has a trailing habit but will climb if given the chance. It looks especially well with lamb's ear, and a light pink geranium.
Type: Evergreen perennial
Size: 6-8" H x 12-18" W
Sun: Full sun to full shade but prefers some shade in zones 7 and warmer.
Soil: Average, well-drained
Hardiness: Zones 5-10

Variegated Cuban Oregano (Plectranthus amboinicus)


The thick leaves on this trailing plant from South Africa are fragrant and edged with white. The small blue flowers are also fragrant and appear in summer. Great plant for heat and humidity. Pair with pink New Guinea impatiens or blue torenia.
Type: Annual
Size: 1-2' H x 3' W
Light: Sun to partial shade
Soil: Fertile, well-drained

Golden Creeping Jenny (Lysimachia nummularia 'Aurea')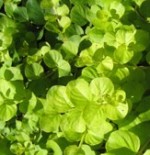 Dime sized chartreuse to golden leaves cover the creeping stems of the low growing perennial. The best color develops in partial shade. Looks good spilling over the edge of a pot filled with plants bearing blue or purple flowers.
Type: Perennial
Size: 3" H x 10-12" W
Light: Full sun to part shade
Soil: Average, moist, well-drained
Hardiness: Zones 3-8
The euonymus and lantana will quickly fill a large container to provide a lush look. Variegated Cuban oregano or 'Glacier" English ivy can be used in both large and medium containers with good effect while golden creeping jenny is perfect for smaller container. There are many plants that can be used with these trailers and the ones suggested are just a sampling to give an idea of some possibilities. When building a container arrangement care should be taken to make sure that the light and soil requirements are similar for all the plants.