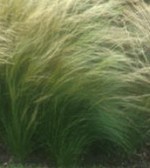 Many grasses make excellent plants for containers. They offer a unique texture and can add color, form, and movement to a planting. There are very tall ones, and very short ones, with many in between. Many are drought tolerant and pest free so maintenance is easy. They can be grown as specimens, with other grasses, or combined with annuals and perennials for a smashing addition to patio or any other place you need a container. 
Here are five terrific grasses for containers.

Elijah's Blue Fescue (Festuca glauca 'Elijah Blue')
This low growing grass forms a mound of powdery blue foliage and blooms in late spring to early summer. 'Elijah Blue is one of the bluest of the blue fescues and does not fade. It does well in moderately dry areas but tends to decline a bit in the heat and humidity of the South, coming back in the fall, however, with renewed vigor.
Type: Cool season perennial
Size: 4-8" H c 6-10 W
Light: Full sun to part sun
Soil: Average well-drained
Hardiness: Zones 4-7
Squirrel Tail Grass (Hordeum jubatum)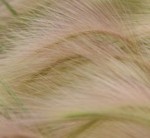 This native grass boasts glistening silvery plumes tinged with purple that move gracefully in the wind. Considered by some to be a weed, squirrel tail grass's color and unusual flower heads are an asset to a container. In addition, it is salt tolerant.
Type: Annual or short lived cool season perennial
Size: 10-24" H x 3" W
Light: Full sun
Soil: Average, moist to dry
Hardiness: Zones 3-8
Mexican Feather Grass (Nassella tenuissima/Stipa tenuissima)


This is the grass that will add movement to your container as it responds to the slightest breeze. The long silky leaves, complemented by airy flower heads that appear in summer, cascade in a fountain-like effect. Great in a pot by itself or combined with other plants.
Type: Warm season perennial
Size: 12-24" H x 12-24" W
Light: Full sun
Soil: Average, well-drained
Hardiness: Zones 6-10
Golden Japanese Forest Grass (Hakanechloa macra 'Aureola')


The chartruse foliage of this grass creates a waterfall effect as it cascades over the side of the container. The leaves are actually, bright yellow with a narrow green stripe but take on red to pink tints in the cool weather of spring and fall. It is especially effective when used to brighten up a dark corner.
Type: Cool season perennial
Size: 14" H x 16" W
Light: Part shade
Soil: Humus rich, moist, well-drained
Hardiness: Zones 5-9
Hare's Grass (Lagurus ovatus)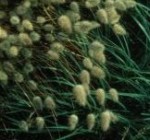 If you have young children around, this is one grass to grow for them. The cute bunny tails produced in summer last all season and beg to be touched. They make good cut and dried flowers too. A dwarf cultivar 'Nanus" is also available.
Type: Warm season perennial grown as annual
Size: 18" H x 10" W
Light: Full sun
Soil: Average, moist, well-drained
Hardiness: Zones 10-11
These grasses are readily available as seeds or in pots in stores and nurseries. They vary in regard to their size, light, and moisture requirements, so have to be paired with the right companions for best results. Their handsome foliage adds interest to containers all season and their flowers add another dimension when they are in bloom.