Flowering shrubs grown in containers can be used in many ways. They can line a driveway or walk, decorate a swimming pool, patio, deck or terrace, or screen off an area for privacy. They can be moved around as the seasons progress, changed to create a different look, or dressed up or down to suit an event. The flowers provide color while the foliage provides background for the flowers and other plants that you might want to use with them. Not all shrubs do well in containers but many do.
Here are five shrubs that will do in containers.

Camellia (Camellia japonica)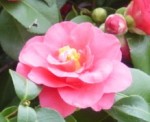 The glossy green leaves of camellia makes them attractive all year round and the exquisite flowers add color during the colder months when little else is blooming. Many varieties are available to provide different colors, heights, and bloom time. You can choose from pink, red, white, and variegated forms and find plants that are 6-8 feet tall. Plants blooms sometime between November and April for many weeks depending on the cultivar. More good news; they can be transplanted into containers when in bloom. Hardy to zone 7, camellias need winder protection when temperatures go below 20 degrees.
Light: Part shade; part sun in cool climates
Soil: Moist but well drained, acidic
Outstanding Selections:

Alba Plena (double white flower with 100 petals or more; slow grower; early season)
Guilio Nuccio ( large,rose red flowers; weeping habit; early tomid-season)

Gardenia (Gardenia jasmoinoides)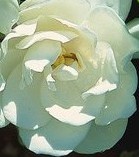 For a beautiful fragrance it is hard to beat a gardenia. One plant will fill an area with the its delightful scent in spring or summer when the lovely waxy white flowers are produced. The rest of the year dark green, shiny evergreen leaves are attractive on 4-5' plants. Admittedly, gardenias are not the easiest plants to grow but they are worth the extra care. Some experts say that gardenias are easier to grow in containers than in the ground. Hardy to zone 8 gardenias need some protection in winter.
Light: Morning sun with some afternoon shade
Soil: Moist, well-drained, acidic
Outstanding Selections:

'August Beauty' (large, double flowers; late blooming; vigorous)
''Chuck Hayes' (large semi-double flowers on large bush; good cold hardiness)

Chinese Hibiscus (Hibiscus rosa-sinensis)

For a lush Hawaiian tropical look Chinese hibiscus has a lot to offer. The flowers come in a wide range of colors, and may be single or double. The evergreen leaves are smooth or ruffled, deep green or variegated. Flower production can be increased by pinching the tips of the stems. Although a perennial in its natural habitat Chinese hibiscus is frost sensitive and usually treated as an annual. If you want to overwinter it, keep night temperatures above 55 F.
Light: Full sun
Soil: Rich, moist, well drained; (drought intolerant)
Outstanding Selections:

'White Wing'(dependable for cool weather)
'Aussie King' (brilliant red flowers with colorful foliage)

Hydrangea (Hydrange macrophylla)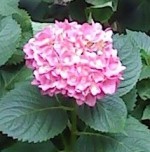 The huge clusters of flowers and large attractive leaves create a nostalgic look. The plants may be large and die to the ground in the winter and will need protection. They also need lots of water during the growing season but will let you know of any lack by their wilted leaves which recover if watered promptly.
Light: Sun or part shade; afternoon shade in the South
Soil: Organically rich, moist, well-drained
Outstanding Selections:

'Parzifal' (compact, dark pink mophead flowerheads; 4' H x 3' W)
'Forever Pink' ( 3' tall; flowerheads 4-5" across)
'Pia' (pink dwarf)

Oleander (Nerium oleander)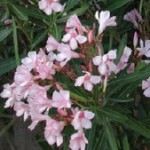 This Mediterranean native is one of the toughest plants around and is often seen along highways in southern California as well as Italy. Showy clusters of red, white, pink, or yellow are produced from spring until fall and the foliage remains attractive year around. Although tall shrubs are common, dwarf varieties are available but are more tender. Hard pruning can keep large ones under control. Hardy to zone 8, it needs protection in most places. N. B. All parts of the plant are poisonous.
Light: Full sun
Soil: Average to dry, well drained
Outstanding Selections:

Compact forms such as 'Little Red'; Petite Series
Container plants need special attention because they can not explore the soil around them for the water and nutrients that they need. Begin with a good quality potting soil mix, never with ordinary garden soil. Drainage is the key to success with container plants and soil with good drainage is one of the most important factors in producing successful containers. Once you have the plant in good soil, special attention is needed in regard to watering. Plants in containers dry out quickly and need more watering than if they were in the ground. As a result, you may have to water more often than you are accustomed but do so with great care because over watering can be worse than underwatering. A regular fertilizing plan is also essential for best results and will vary according to the plant.