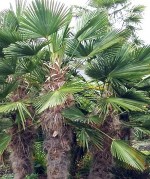 If you live in an area where tropical plants can not survive the winter you can still have a tropical look on your patio or entryway by using container plants that can be moved into a protected area in winter. Many plants that are tender grow well in containers and can provide the lush vegetation and color that we associate with the topics.
Here are five plants that will create a tropical look.

Japanese Banana (Musa basjoo) Grown for its foliage, this banana has large paddle shaped leaves and needs protection from wind. The yellow or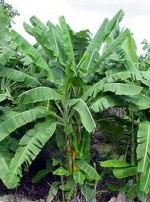 cream flowers are small and the fruit is inedible so don't get your hopes up. Although it is cold hardy to zone 5 when planted in the ground, Japanese banana needs protection in the winter and can be put in a frost free basement after cutting the plant to the ground in the fall.
Size: 4-14' tall
Light: Full sun
Soil: Average, moist but not wet

Elephant Ear (Alocasia amazonica)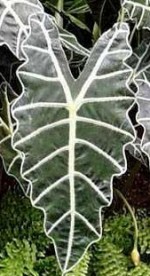 There are many kinds of elephant ear plants offering leaves in various sizes, shapes and color combinations including green, blue-green, yellow, bronze, and variegated. They are heavy feeders and need to be fertilized every couple of weeks. In fall, dig up the tubers and store in a cool, dry place until spring.
Size: 8-10' tall
Light: Partial shade
Soil: Fertile, moist but not wet

New Zealand Flax (Phormium tenax, Phormium cookianum, and hybrids)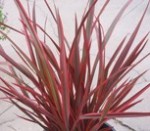 The spiky leaves of New Zealand flax arise from a base and provide a striking focal point. There are over 75 cultivars and come in a variety of colors including bronze, deep red, chocolate, and variegated. Rhizomes may be dug and stored in a cool place during the winter.
Size: 2-5' tall
Light: Full sun to partial shade
Soil: Rich, moist, well-drained

Dwarf Chusan Palm (Trachycarpus wagneranus)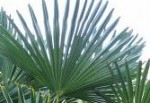 Bought as a small houseplant this palm will slowly grow into an attractive compact container plant for the patio. The shiny rigid leaves are deep green and deeply cut into a myriad of divisions. This is one of the best palms for a patio and since it is evergreen can be moved indoors and enjoyed in winter. In the ground it is hardy to zone 6.
Size: 1-4' Tall
Light: Partial shade
Soil: Average, moist to dry, well-drained

Castor Bean (Ricinus communis)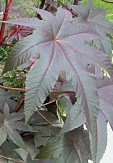 No need to over winter this one; it is an annual that grows quickly from seed. The leaves leaves have 5-12 lobes and can be up to 18" across. Colors include green, purple, deep burgundy and variegated. The spiny dry seed carriers are attractive too but the seeds are extremely poisonous.
Size: 12' Tall
Light: Full sun
Soil: Fertile, moist, well drained.
All of these plants are large and will create a tropical ambiance for a patio, entryway, or other place where there can be enjoyed. Many smaller plants can be tucked in and among them in containers of their own to add more color and variety. Think big colorful leaves such as those of hostas and caladiums or use annuals with bright colored flowers such as petunias and celosias.