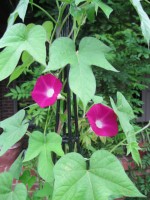 Whether you have a patio, balcony, courtyard or porch a container with a flowering vine can add color and sparkle. In fact, a flowering vine in a container can be an asset to anyone who likes to garden because you can move them around as the seasons progress, create interesting spaces, provide shade and more. Many annual vines can be started from seed so are easy and inexpensive additions. Since annuals complete their life cycle in one growing season you don't have to worry about over-wintering them and can start fresh the following spring.
Here are five annual flowering vines that can be successfully grown in containers.

Morning Glory (Ipomoea tricolor)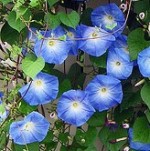 There are many fabulous cultivars of this old time favorite vine that climbs by twining its stems up a support. The flowers open in the morning in full sun and close by mid-day, lasting only one day, but are immediately replaced by new ones. The heart shaped leaves remain attractive all season.
Size: 8-12"
Flower Colors: Purple, blue, red, pink, white, and multicolored
Light: Full sun
Soil: Average, well-drained.

Black-eyed Susan Vine (Thunbergia alata)


The bright cheery flowers have a homey look and add a rustic feel to any container. Although the flowers are small they are produced in profusion especially after the heat of the summer declines.
Size: 6-8'
Flower Colors: Yellow, orange, or white with dark center
Light: Full sun to light shade
Soil: Fertile, moist, well drained; are not drought tolerant

Snail Vine (Phaesolus caracalla)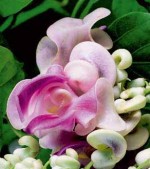 One look at the flowers and you know why this vine got its name. The snail shaped flowers are borne in tight clusters about 12" long and are fragrant. Seeds are difficult to buy but the spectacular flowers are well worth the effort.
Size: 3' Tall
Flower Colors: Light purple with white and/or yellow markings.
Light: Full sun
Soil: Average, moist, well drained

Cup and Saucer Plant (Cobaea scandens)


Native to Mexico and tropical South America, cup and saucer plant flowers look like large bells. The leaves are large and give a lush, tropical look to an area.
Size: 11' Tall
Flower Colors: Green turning to purple
Light: Full sun
Soil : Moderately fertile, moist, well-drained

Chiliean Glory Flower ( Eccremocarpus scaber)


The flashy orange-red tubular flowers grow in cluster four to six inches long on self clinging vines from spring until fall. The leaves are small, light green, and have prominent venation.
Size: 10'
Flower Colors: Orange, red, yellow
Light: Full sun
Soil: Fertile, dry to medium, well-drained
Morning glories are true annuals but the other four vines presented are actually tender perennials that most people grow as annuals. If you have a greenhouse or very sunny place in your house you might be able to over winter them but it is generally easier to start over from seed each year.