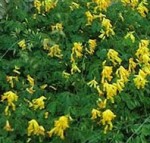 The bright yellow flowers of spring brighten the landscape like no other flower can, signaling that life is beginning anew and the gardening season is commencing. Yellow is the color of sunshine, daffodils, and gold; no wonder that it warms the gardener after a cold winter. Yellow is full of energy and encourages enthusiasm and activity. Yellow blooming flowers in the rock garden will brighten both the garden and your spirit.
Here are five perennials with yellow flowers in spring that are exceptionally suitable for the rock garden.

Basket of Gold (Aurinia saxatilis)
A classic rock garden plan, basket of gold is covered with small intense yellow flowers in early to mid-spring. The evergreen plant has gray-green foliage and sprawls over the ground, rocks, and walls. Many attractive cultivars are available including a dwarf known as 'Tom Thumb' that is only 3-6" tall making it especially suitable for small rock gardens. Often grown as an annual in hot climates.
Size: 3-16" H x 16" W
Light: Full sun
Soil: Average, well-drained
Hardiness: Zones 4-7

Corydalis lutea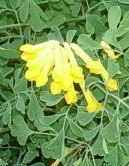 This is one of the most endearing plants in the garden. Its small yellow flowers that recall those of bleeding hearts appear in spring and keep appearing right up until fall. The plant has a mind of its own and is likely to grow everywhere except the place you planted it but with its delicate ferny blue-green leavers it is welcome. It is particularly winsome growing in the cracks of walls.
Size: 9-15" H x 18" W
Light: Shade
Soil: Average, moist, well-drained, neutral to alkaline
Hardiness: Zones 5-7

Primrose (Primula auricular)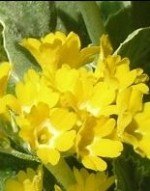 Spring would not be spring without primroses. The ones you see in the nurseries, however, have a contrasting eye that is attractive but quite different from the species. The species is yellow and very endearing, well worth finding and growing in the rock garden. The bell-shaped flowers about 1" wide and held in umbels above thick, 2-3" wide leaves.
Size: 2-8" H x 8" W
Light: Partial shade
Soil: Average, consistently moist
Hardiness: Zones 2-8

Golden Cinquefoil (Potentilla aurea)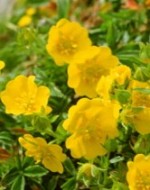 Golden yellow flowers with a darker or orange tinted eye are produced in loose terminal clusters above tight clumps of small, deep green leaves. Golden cinquefoil is semi-evergreen and one of the most popular dwarf cinquefoils for rock gardens.
Size: 4-6" H x 8" W
Light: Full sun to part shade
Soil: Rich, moist (does not need fast draining soils that most rock garden plants need)
Hardiness: Zones 5-8

Hardy Yellow Iceplant (Delosperma nubigenum)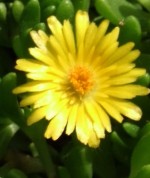 Finally, a rock garden plant that can survive in heat! A native of South Africa, this iceplant quickly grows into a large mat of succulent leaves that starts blooming with yellow daisy-like flowers in the spring and continues to fall. It makes a good ground cover as well as rock garden plant and is drought tolerant once established.
Size: 6-7" H x 15" W
Light:Full sun to part shade
Soil:Average, gritty, well-drained
Hardiness: Zones 5-10
These yellow flowered spring blooming perennials meet a variety of needs. If you live in a warm climate, try yellow ice plant, moist soil in sun try golden potentilla, moist soil in shade try primrose. For long bloom from late spring to fall, corydalis or iceplant are good choices, depending on light conditions and heat tolerance.