As spring turns into summer pink flowers keep the rock garden looking fresh and cheerful. Pink goes especially well with gray rocks all the different kinds of green leaves, and the yellow, white, magenta, blue, and purple of other rock garden plants. Pink comes in many shades and intensities so the gardener has a lot to choose from to create appealing plant combinations.
Here are five pink flowered plants that will provide bloom from the beginning of summer until fall. As one goes out of bloom, others begin and carry on.

Alpine Aster (Aster alpinus)


The pink, blue, or white daisy-like flowers 1-2" across appear in early summer above a low-growing carpet of green leaves. The plants do well in cool climates and do not tolerate heat and humidity well. It is a short-lived plant, lasting 3-4 years, but reseeds if allowed. 'Happy End' has rose pink flowers, 'Dark Beauty' blue almost purple flowers, 'Wargrave Variety' pale pink flowers, and var. albus white flowers.
Size: 6-9"H x 12" W
Light: Full sun
Soil: Lean, well-drained
Hardiness: Zones 4-7

Rock Soapwort (Saponaria ocymoides)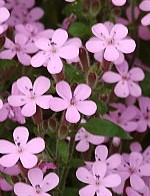 This vigorous semi-evergreen perennial forms a low, loose, mat and is especially effective spilling over rocks or a wall. The bright pink flowers are borne in loose sprays from the tips of the branches in early summer above the olive-green leaves. Plants are also attractive in a border or container in areas not plagued by heat and humidity. Several varieties are available that have light pink, white, or crimson flowers.
Size: 6-9" H x 9" W
Light: Full sun
Soil: Average, gritty, well-drained
Hardiness: Zones 2-7

Rockfoil (Saxifraga paniculata)


Native to many alpine and boreal parts of the world, rockfoil is an interesting plant that belongs to a group of saxifrage that secretes lime along their leaf margins. The plant forms 2-3" rosettes that produce branched stems bearing flowers and then die but are replaced by offset formed at the base of the old plant There is great diversity among the species of rockfoil and several varieties are available providing differences in height and flower color.
Size: 6-24"H x 20" W
Light: Bright light; must be sheltered from hot midday sun.
Soil: Average, gritty, well-drained
Hardiness: Zones 2-6

Grassleaf Scabious (Scabiosa graminifolia)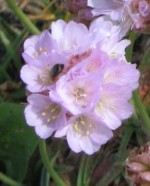 The grass-like, long, narrow, silvery leaves form loose evergreen mats. The pale pink flowers are 1½-2" in diameter and are borne singly over a six week long bloom-time.
Size: 10-18"H x 18" W
Light: Full sun
Soil: Average, well-drained, neutral to alkaline
Hardiness. Zones 5-10 (but does not tolerate high humitity)

Two Row Stonecrop (Sedum spurium)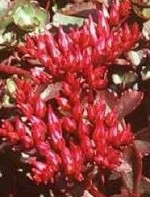 There are many sedums and Sedum spurium is one of the tougher, showier, and more vigorous than many. In fact, it is so vigorous it can become invasive and take over a small garden so is recommended only for large gardens; you have been forewarned. The flowers are rosy red and the bright green leaves are tinged with red, turning redder in the fall. There are several good cultivars differing in flower and leaf color as well as size. 'Vera Jamison' is a hybrid clump-former, 9-12" tall, with rose-pink flowers and blue-green leaves.
Size: 2-6" H x 18" W
Light: Full sun
Soil: Average, well-drained
Hardiness: Zones 3-10
Most rock garden plants thrive in cool climates and four of these are typical. The fourth, two row stonecrop, however, is good even for hot climates and does well in the South. All of these do well in full sun, and average to lean, well-drained neutral soil.