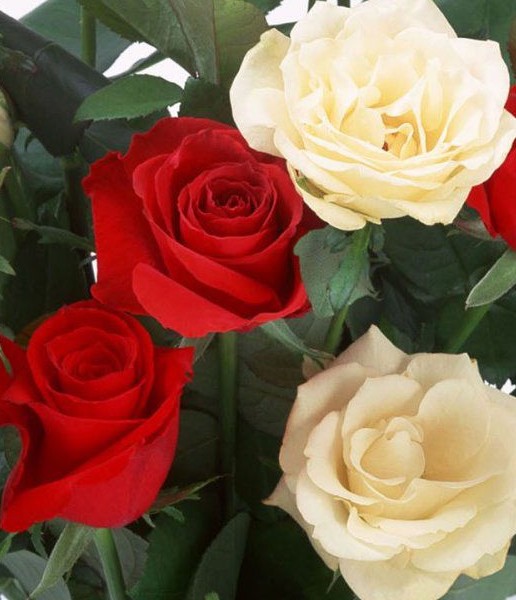 Roses make beautiful additions to any holiday arrangements especially at Christmas time. Red and white roses are the most popular but yellow ones can be used with yellow variegated foliage to complement gold decorations, and pink ones paired with lace and maroon velvet ribbon make lovely Victorian themed arrangements. Rose breeders and growers have made use of Christmas to market their roses and there are a substantial number of roses named for Christmas. Most are red or white with names that cover the gamut of the Christmas experience.
Hopefully by 'Christmas Eve' there will be 'Christmas Snow' so that we have a 'White Christmas' on 'December 25th'. Be sure to send a 'Christmas Card' to all your friends and on 'Christmas Eve' prepare 'Christmas Cheer' for your family and set out cookies for 'Father Christmas'. After all, you want 'Santa Clause' and at least one 'Elf' to bring the children their presents when it comes with 'Sleigh Bells' tinkling. As Santa takes off after accomplishing his mission you may hear him exclaim 'Merry Christmas' as his 'Jingle Bells' fade into the night.
Roses named for Christmas include hybrid teas, miniatures, floribundas, and climbers well as a florist rose ('Christmas Cheer'). A selection of these roses could be used to create a theme garden on Christmas or holidays in general. A pot of miniatures like 'Pink Elf' or dark red "Elf' would make a nice table arrangement or gift for a rose-lover friend. Don't worry if you can't get a rose with a Christmas name, get any pretty white or red rose and adorn it with red or white ribbon and a cute Christmas ornament. Placed in baskets, several pots of red or white roses make a lovely center piece that everyone will enjoy and rose lovers will especially appreciate.