Picking the "best" roses is an objective process and in this case, the ratings of the American Roses Society have been used. Every year the American Rose Society enlists the help of people all over the country to evaluate the roses they grow. Each rose cultivar is evaluated on a number of characteristics including garden performance which considers such factors as vigor and growth habit, number of blooms, how quickly the plant repeats, the beauty and lasting quality of the blooms in the garden, fragrance, resistance to mildew, blackspot and rust, winter hardiness, and quality of the foliage. The results of this survey are published in an issue of American Rose and ratings are published in the ARS Handbook for Selecting Roses.
Using the results of the survey, the following six white, old garden roses have been chosen for their outstanding garden performance.
'Great Maiden's Blush'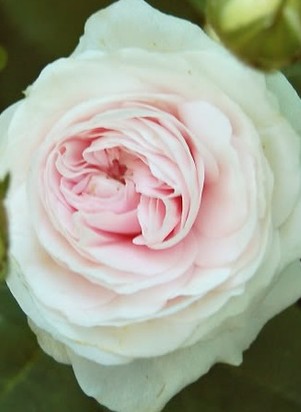 Also known as 'Cuisse de Nymphe Emue', this old alba rose has pale pink petals that fade to white on the edges. The cupped flowers are borne singly or in clusters of five or less, open flat and are followed by long orange hips. The tall, slender plants have blue-green leaves and are almost thornless. Generally disease resistant, 'Great Maiden's Blush' is susceptible to rust.
Type: Alba
Origin: Britain, c 1550
Parentage: Uncertain
Flower Size: 2.4-3.25" diameter
Petal Count: Up to 50
Scent: Strong and sweet
Flowering: Once
Plant Size: 5.7-11'
Hardiness: Zone 5
ARS: 8.9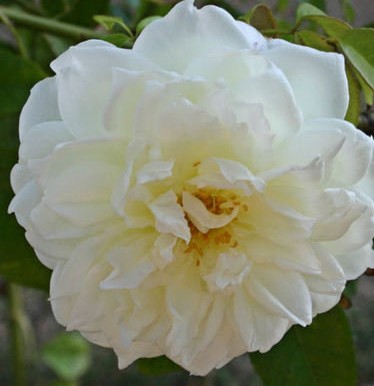 'Lamarque'
Starting early in the spring and blooming sporadically until late fall, this climber is especially suited to warm climates. The flowers are creamy white fading to pure white on the edges and have a large number of petals with a mass of small ones in the center. They are cupped to flat and are borne singly or in cluster of three to four. The plant is almost thornless and has bright green leaves. Named for General Jean Maximilien Lamarque, a commander in the Napoleonic Wars who was known for his capture of Capri from the British and for his defeat of Royalist forces in the Vendée in 1815.
Type: Climbing Tea-Noisette
Origin: Marechal, France, 1830
Parentage: 'Blush Noisette' x 'Parks Yellow'
Flower Size: 3-4"
Petal Count: 26-40
Scent: Light, tea-like
Flowering: Flushes
Plant Size: 8- 32' H x6- 12' W
Hardiness: Zone 8
ARS Rating: 8.9
'Mme Plantier'

The many petaled flowers are borne in clusters of five to twenty flowers and are at first pink before fading to white. The petals are often arranged around a small central green eye. The bushes are very vigorous and can be grown free standing but are more suitable for growing on a pillar. The slender arching canes are almost thornless and carry small pale green leaves. Although 'Mme. Plantier is believed to be derived from a cross with a Noisette its hardiness is exceptional and, in fact, it needs a cool winter for best flowering.
Type: Alba-Noisette
Origin: Plantier, France, 1835
Parentage: Uncertain
Flower Size: 2.8"
Petal Count: Very double; up to 150 petals
Scent: Strong, musky
Flowering: Once only
Plant Size: 5-12' H x 5-8' W
Hardiness: Zones 4-9
ARS: 8.9
'Mme Alfred Carriere'

Considered by many to be one of the best noisettes, 'Mme. Alfred Carriere' is a vigorous climber that blooms twelve months of the year in warm climates. Its long, elegant buds have a touch of pink and open to flowers that are the palest pink fading to white as they mature over a long bloom time. The flowers are cupped with ruffled petals when fully open and are borne on straight stems in loose clusters of three to nine flowers.The slender, upright stems large medium green leaves and are almost thornless which makes them easy to train. Whether growing on a wall, trellis, or column, 'Mme Alfred Carriere' makes a strong vertical focal point in the garden. It tolerates some shade and drought, is disease resistant except to mildew, and resents pruning. Flowers are excellent for the vase.
Type: Noisette
Origin: Schwartz, France, 1879
Parentage: Unknown
Flower Size: 4"
Petal Count: Double; up to 30
Scent: Strong to mild; sweet tea
Flowering: Early and almost continually
Plant Size: 15-20' H x 10' W
Hardiness: Zones 7-10
ARS: 8.8
'Mme Hardy'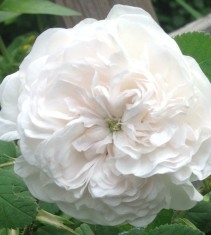 Rose 'Madame Hardy' has buds with a hint of pink open to pure white cup-shaped blossoms that ultimately open flat. The outer petals are slightly reflexed and surround an interior of short, ruffled petals quartered around a green eye. The flowers are usually produced in clusters of three to five on prickly stems. Plants have an abundance of pale green leaves, are vigorous, and are considered very disease resistant.
Type: Damask
Origin: Alexander Hardy, France, 1812
Parentage: Uncertain
Flower Size: 2.8"
Petal Count: 15-25
Scent: Medium and sweet
Flowering: Once only
Plant Size: 4-6.7' H x 4-5' W
Hardiness: Zones 5-9
ARS Rating: 8.7
'Mme Zoetmans'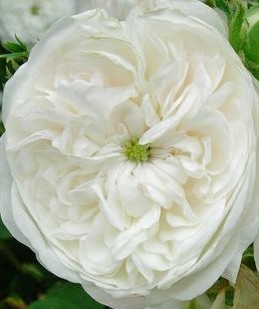 Carried singly or in clusters up to five, the flowers of 'Mme Zoetmans' are at first pink or cream but fade to pure white and have a rosette form. The petals are quilled and surround a green button eye. The pale green leaves are abundant and healthy. The bush is well branched, fairly vigorous and lax with bristly stems.
Type: Damask
Origin: Marest, France, 1830
Parentage: Unknown
Flower Size: 3.1"
Petal Count: Very full (26-40)
Scent: Strong, sweet
Flowering: Once
Plant Size: 4' H x 3' W
Hardiness: Zones 5-9
ARS Rating: 8.7