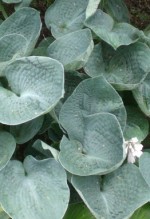 Sooner or later everyone seems to grow some hostas. Some people find them boring but that is probably because they don't appreciate all the differences between the different kinds that are available. And there are many hostas to choose from; over 5,000 ciltivars!!! !Most garden centers or catalogs will carry a couple of dozen or less, some of which will be old standby, others will be new cultivars never before seen by the gardening public. There are so many choices perhaps an organized look at the way hostas vary will help the selection process.Here are some of the ways that hostas vary. Hostas are usually grown for the characteristics of their foliage so let's start with them. In each case there is a picture of a hosta showing that characteristic but there are dozens more that have the same characteristic. No two hosta cultivars are exactly alike but many look similar and many more show variations of the example shown. The idea here is to give a general picture of the huge variation in hostas so that you can decide what characteristics are most important to you and choose your plants with a broad concept of what is available.

Leaf Color
Leaves may be many shades of green including blue-green and chartreuse.  They may also be variegated and have combinations of blue, green, yellow and white.
–Medium Green ('Akarna')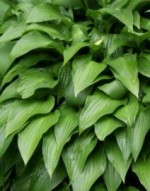 –Blue Green ('Halcyon')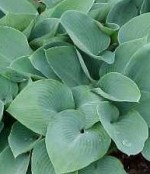 –Mix of Blues and Greens (H. todudama 'Aurea-nebulosa)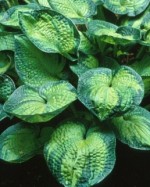 –Blue Black ('Coal Miner')

–Chartreuse/Light Yellow (Piedmont Gold')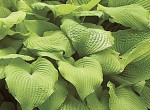 –Yellow ('Sun Power')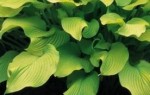 –Variegated with White Edge ('Patriot')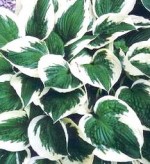 –Variegated with White Center ('Revolution')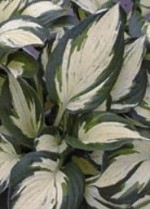 Variegated with Yellow Edge ('Katie Q')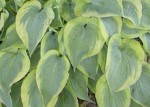 –Variegated with Yellow Center ('Stained Glass')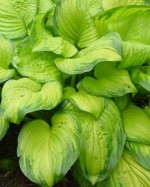 Leaf Texture.
Hosta leaves vary in their texture adding to the visual interest they contribute to the garden. Heavy textured hostas tend to be more slug resistant than others.
–Heavy Texture ('Frances Williams')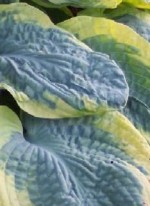 –Cupped ('Love Pat')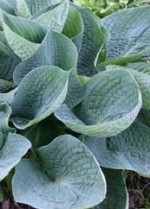 –Ruffled ('Dragon Tail')

–Twisted ('Corkscrew')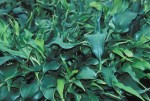 Leaf Shape
Leaves may be roundish or linear.
–Oval to Heart-shaped ('Valentine Lace')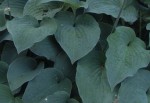 –Lance ('Stiletto')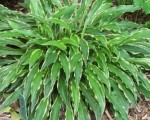 Leaf Size
Leaves vary in length from tiny to huge.  Here are examples of the extremes.
–One Inch ('Tiny Tears')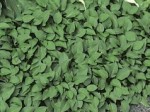 –Twenty Inches (' Blue Angel')

Plant Size
Big leaves are borne on big plants and Blue Angel (above) is a huge plant measuring over 4' high and across . 'Thumb Nail' is only 2" tall.

Plant Shape
Most hostas form mounds but some are upright like 'Krossa Regal'.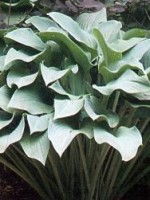 Flowers
Although most hostas are grown for their leaves some hostas have especially significant flowers that may tempt you. Here are some hostas with flowers of special interest.
–Double Flowers ('Venus')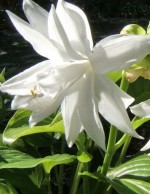 –Density of Flowers ('Fall Bouquet')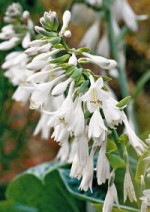 -Fragrance ('Fragrant Bouquet')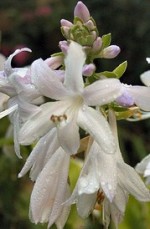 Petiole Color
Most petioles are green but some are red ('Red October')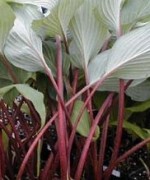 Slug Tolerance
Slugs are a well known pest of hostas, eating the leaves of many hostas. 'Heat Wave' has such a leather texture that most slugs will move along and not bother them.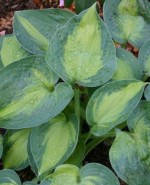 Sorry, no hostas are known to be deer tolerant.

Sun Tolerance
Hostas are know for their role in shady gardens but some , like 'Sun and Substance'   can take up to ¾ day of sun if they are given adequate water.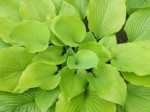 The most important factor in the selection of hostas is the surroundings in which they are placed. As you look at hostas consider the ambiance of the site, the other plants that will be companions to the hostas, and ask yourself "what does the site need?"   There are so many hostas available that you can can probably find one with a combination of the features you want or need.