When designing a garden shady areas present problems and many are best solved by the use of plants with handsome foliage to make up or the dearth of flowers. The choice of plants with good-looking foliage over a long period of time should include a variety of textures that will contrast with each other and make the garden interesting. Combining plants with bold, linear, and fine textured foliage in an artful way can produce a pleasing garden that can rival any garden full of flowers.

Ferns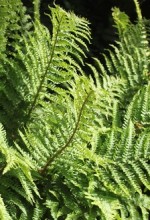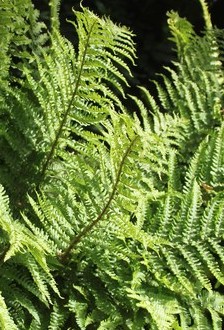 There are many kinds of ferns and they vary in their love of shade as well as in their degree of fine texture. Some of the best ferns for the shade garden are Dryopteris filix-mas(male fern), Athyrium filix-femina (lady fern), Athyrium niponicum var. pictum (Japanese painted fern), and Adiantum pedatum (maidenhair fern). Male fern tolerates dense shade.
Height: 1-3" depending on species
Soil: Fertile, moist, well-drained, acid
Hardiness: Zones 3 / 4 – 8 depending on species
Fringed Bleeding Heart (Dicentra eximia)


Native to forest floors along the East coast from New York to Georgia, fringed bleeding heart offers delicate blue-green foliage and rosy pink flowers one inch long over a long bloom time staring in spring. D. formosa, Pacific bleeding heart is very similar but less tolerant of heat and humidity.
Height: 9-18"
Soil: Fertile, moist, well drained
Hardiness: Zones 3-9
Astilbe ( A. x arendsii)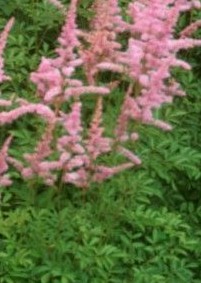 This large group of hybrids includes plants with feathery plumes of white, pink, or red flowers and fern-like foliage that may be dark green to coppery. They grow in partial to deep shade and bloom from spring until mid summer depending on the cultivar.
Height: 1-2 ½'
Soil: Fertile, consistently moist, well-drained
Hardiness: Zones 3-8
Yellow Corydalis (C. lutea)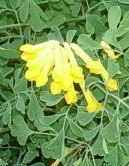 The pale blue green foliage is highly divided and fern-like. The golden yellow flowers are spurred and are carried on wiry stems in spring for a long bloomtime. Ubiquitous in the UK where it pops up in cracks in the pavement and walls.
Height: 9-15"
Soil: Average, moist, well-drained; tolerates with basic pH.
Hardiness: Zones 5-7
Japanese Forest Grass (Hakonechloa macra 'Aureola' )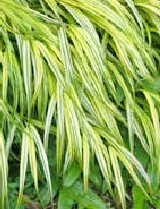 Brighten a shady place in the garden with the golden striped leaves of this cultivar. The arching grass-like leaves are produced in large graceful clumps that produce loose, nodding panicles of yellow green flowers in mid-summer.
Height: 15"
Soil: Average, consistently moist, well-drained
Hardiness: Zones 5-9