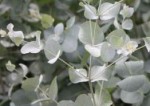 There are many different species of eucalyptus but this one is a good choice because it is more frost tolerant than most and can be kept as a shrub if pruned. Its growth habit is not particularly attractive but its leathery, rounded, frosty blue leaves are a asset to the border and fabulous in fresh and dried arrangements. If the plant is allowed to grow tall, the leaves will become green and more elongated so pruning has the double result of maintaining the small size of the plant and color and shape of the juvenile leaves. I have successfully grown eucalyptus in zone 7 in both Annapolis, MD and the Triad of North Carolina but have had to replace it after in both areas after unusually harsh winters. If this eucalyptus is kept small and grown in a container it can be moved in doors for the winter. Regardless of where it is grown, it does not like wet soils, and does like a good dose of balanced fertilizer monthly. A "must have" if you have a koala bear for a pet (just kidding, koalas prefer other species of eucalyptus).
Type: Deciduous tree or shrub.
Outstanding Feature: Frosty blue, oval, scented leaves.
Form: Irregular.
Growth Rate: Rapid.
Bloom: Clusters of 3-5 small white flowers are borne in spring.
Foliage: Oval to oblong, 1-2" wide gray-green juvenile leaves; lanceolate, 4", green mature leaves.
Size: 100' H x 10-12' W.
Light: Full sun to partial shade.
Soil: Fertile, well drained. Drought tolerant once established.
Fertilizer: Balanced fertilizer monthly.
Hardiness: Zones 8-11
Care: Prune to maintain juvenile leaves and small size.
Pests and Diseases: Few pests; repel many insects.
Propagation: Seed.
Comments: Can be grown in a container.