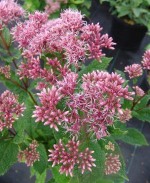 If you like the prairie look but have limited space consider 'Little Joe' Pie Weed. It has the same large clusters of small mauve pink flowers, attractive foliage, and appeal to butterflies as its taller relatives but it only grows 3-4' tall. Swallowtails and monarchs find it irresistible, many beneficial insects use the plant as shelter during the winter and some birds use the seed heads as nesting material. I planted it in my bird area with other prairie sort of plants and it adds both texture and soft vertical interest. It is very easy to grow as long as it gets moisture during dry periods and looks good all season.
Type: Herbaceous perennial.
Bloom: Clusters of small mauve pink flowers are borne on top of 3-4' stems in late summer to fall.
Size: 36-48" H x 36-48" W.
Light: Full sun-part shade.
Soil: Average, moist soil with good drainage.
Hardiness: Zones 4-9.
Fertilizer: Feed once a year with a slow release fertilizer.
Pests and Diseases: Snails, slugs, rust, white smut, leaf spots, Southern blight.
Propagation: Divide plants in spring.
Companion plants: White or pink cone flower (Echinacea purpurea), black eyed Susan (Rudbeckia fulgida var. sullivantii 'Goldsturm'), Maidenhair grass (Miscanthus sinensis 'Gracillimus'), feather reed grass (Calamagristus x acutiflora 'Karl Foerster'), purple muhly rass (Muhlenbergia filipes).
Comments: 'Little Joe" does not benefit from being deadheaded so let the plants go to seed and provide nesting materials for birds.