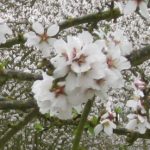 Orgeat is a sweet syrup made from almonds, sugar, and rose water or orange flower water.  It has a strong almond flavor and is  an essential component of a Mai Tai and other Tiki drinks.  Originally made from a barley-almond blend, the name orgeat is derived from the Latin  word hordeaceus meaing made with barley.  My paternal grandmother, Helen S. Wright, included a recipe for orgeat in her 1909 book, Old Time Recipes for Home Made Wines.
In the words of my grandmother:
"Boil two quarts of milk with one stick of cinnamon, and let it stand until quite cold, taking out the cinnamon.  Blanch four ounces of the best sweet almonds, pound them well (in a marble mortar) with a little rose-water; mix them well with the milk; sweeten to your taste.  Let it boil again for a few minutes; strain through a fine sieve till quite smooth and free from almonds.  Serve either cold or warm in handled glasses. "
To buy Old Time Recipes for Home Made Wines by Helen S. Wright from Amazon.com  Click Here.