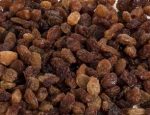 If you do an Internet search for Palermo Wine you will probably find that the most prominent result is a Cabernet Sauvignon from Napa Valley made by Orin Swift Winery.  This wine is described as dry and bold with moderate body, tannins and acidity, and an alcohol content of about 15.5%.  Most tasters reported flavors of oak, vanilla, chocolate, and dark fruit. It sells for about $50.  This is certainly not what my paternal grandmother, Helen S. Wright, had in mind when she included a recipe for Palermo Wine in her book, Old Time Recipes for Home Made Wines.  The main ingredient in her recipe is Malaga raisins that at least have a relationship to grapes but where did she get the idea of including wormwood?
In the words of my Grandmother Wright:
"Take to every quart of water one pound of Malaga raisins, rub and cut the raisins small, and put them to the water, and let them stand ten days, stirring once or twice a day.  You may boil the water an hour before you put it to the raisins, and let it stand to cool.  At ten days' end strain out your liquor, and put a little yeast to it; and at three days' end put it in the vessel, with one sprig of dried wormwood.  Let it be close stopped, and at three month's end bottle it off."
To buy Old Time Recipes for Home Made Wines by Helen S. Wright from Amazon.com  Click Here.