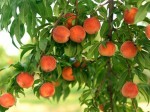 The appearance of the first fresh peaches at the Farmers' Market always brings happiness but long lines whether you eat them as is or use them in cobbler, icecream or pie,  but how about peach wine?  Peaches are wonderful in sangria but also can be made into a light bodied, crisp, refreshing wine that is also reportably (relatively) healthy.  For a super taste treat, pair it with smoked and spicy dishes that will complement the sweetness of the wine.  Of course, the recipe for peach wine in my grandmother's book, Old Time Recipes for Home Made Wines, may not  be exactly what you expect, but the six quarts of brandy that is used in it is bound to be good no matter what!
Here is an old fashioned recipe for peach wine in the words of my paternal grandmother, Helen S. Wright:
"Take three gallons cold soft water, four and one-quarter pounds refined sugar, one pound honey, one-third ounce white tartar in fine powder, the or fourteen peaches.  Ferment; then add six quarts of brandy.  The first division is to be put into a vat, and the day after, before the peaches are put in, take the stones from them, break these and the kernels, then put them and the pulp into a vat and proceed with the general process."
This recipe seem to me to be incomplete but it is exactly as it appears in Grandmother Wright's book.
To buy Old Time Recipes for Home Made Wines by Helen S. Wright from Amazon.com  Click Here.