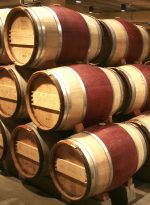 The word champagne suggests a bubbly beverage made from grapes, specificall a French wine made to in Champagne, France, from Pinot noir, Chardennay, or Pinot meunier grapes. When my paternal grandmother, Helen S Wright included a recipe for sham champagne in her 1909 book, Old Time Recipes for Home Made Wines, I didn't expected to get the real deal but did expect to find grapes as one of the ingredients.  But no, not a grape involved in the strange concoction and I can't help but wonder if it was even drinkable.  Photo Credit Wikipedia
Here is the recipe for sham champagne in the words of my grandmother:
"One lemon sliced, one tablespoon tartaric acid, one ounce of race-ginger, one and one-half pound sugar, two and one-half gallons of boiling water poured on the above.  When blood warm, add one gill of distillery yeast, or two gills of home-brewed.  Let is stand in the sun through the day.  When cold, in the evening, bottle, cork, and wire it.  In two days it is ready for use.
To buy Old Time Recipes for Homemade Wines by Helen S. Wright  Click Here.