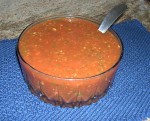 A bountiful supply of fresh garden vegetables always leads my mind to think about Gazpacho and I like to whip it up quickly and enjoy it at either lunch or dinner, sometimes both. There are many recipes of this wonderful cold soup but this one is super quick and easy, and can be varied to suit anyone's taste.
Ingredients:
6 cups tomato juice
1 clove garlic
1 medium onion (red preferred)
1 large cucumber peeled and seeds removed if large
1 large green bell pepper, seeds removed
¼ cup fresh parsley leaves
1/8 teaspoon cayenne pepper or a couple of shakes of Tabasco sauce
juice of ½ lemon
¼ cup olive oil
salt to taste
garnish of croutons, chopped tomato, or lemon slices (optional)
Directions:
1. In a blender, place half the tomato juice, the whole clove of garlic, half the cucumber, and half the green pepper. Puree and pour into container for chilling.
2. Pour the remaining tomato juice, onion, cucumber, and green pepper and all the parsley into the blender and chop so that the pieces are small but not liquefied.
3. Add to the container for chilling.
4. Mix in cayenne pepper, lemon juice, olive oil and salt.
5. Chill for an hour or more but not more than 8 hours.
6. Serve with croutons, tomato chunks, or lemon slice if desired.
As a calorie counter I often leave the olive oil out. I often keep it over night but the flavor is not as good the next day. This is one of my favorite summer foods and if you have never tried it, now is the time to do it.