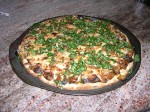 The bounty of vegetables from the garden can be combined with a few simple ingredients to make a delicious and healthful pizza. There are lots of combinations you can make and additions you can incorporate and I tend to do with what I have at the moment. Makes a 14" pizza.Ingredients:
1 medium onion chopped
1 small zucchini and/or summer squash
8 oz. mushrooms, sliced vertically
1 green pepper, yellow pepper, or banana pepper, cleaned and chopped
1 small eggplant skinned, cubed
1 tablespoon oil
1 12-14" pizza crust, homemade or ready made .
2/3—2/4 cup chunky vegetable prepared spaghetti sauce
¼ cup sliced black olives
½ teaspoon oragano
8 oz shredded low fat mozzarella cheese
¼ cup parmesan cheese
10 leave fresh basil (optional)
Directions: preheat oven to 450
1. Saute the onion and squash in oil for 5 minutes.
2. Add mushrooms, pepper, and eggplant and cook until tender (about another 4-5 minutes)
3. Prepare the pizza dough.
4. Spread the spaghetti sauce on the pizza crust
5. Add cooked vegetables and olives.
6. Sprinkle with oregano.
7. Sprinkle with mozzarella, then parmesan.
8. Bake 12-14 minutes until the cheese is melted and golden brown.
9. Garnish with chopped basil.  (To chop the basil in fine strips, roll the leaves into a small log and slice with a sharp knife.
I sometimes use Italian or French bread sliced in half horizontally instead of the pizza dough, depending on what I have on hand. Ditto with the vegetables and you can use provolone of Fontina cheese, the possibilities go on….