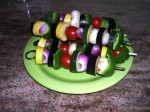 When your garden is producing a variety of vegetables, try grilling some vegtable kabobs. Pair it with grilled chicken and serve on bulgar pilaf or rice. Makes a very tasty meal and has vegetables for every taste. The key to success is the sauce used for grilling; it makes everything taste great including fish, shrimp, chicken, beef and just about any vegetable you would every think about grilling. Give it try next time you decide to grill; it uses common kitchen staples. Serves 4
Grilling Sauce
Ingredients:
¼ cup soy sauce
1 tablespoon Worcestershire sauce
2 teaspoons ketchup
2 tablespoons American mustard
2 cloves of chopped garlic
2 sticks unsalted butter or margarine
Directions
Combine all ingredients in saucepan and cook on low heat until the butter/margarine is melted and all the flavors are blended (about 15 minutes).
Keeps in the refrigerator for several weeks.
Kabobs:
Ingredients: (you can vary the vegetables and quantities to suit the taste of your family or guests.)
2 medium zucchini sliced horizontally
2 medium squash
1 small round or long eggplant cut into cubes or rounds approximately the size of the squash rounds.
1 large red onion separated into scales and cut about an inch square
2 green peppers seeded and cut into one inch squares
½ lb. mushrooms stems removed
1 pint of cherry tomatoes
Directions:
Thread the vegetables onto kabob skewers alternating vegetables and trying to create an attractive combination. Brush each kabob with grilling sauce and grill using a high heat, about 12-15 minutes, turning two or three times until done.