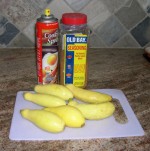 Summer squash and zucchini are rolling in daily and squash casserole recipes abound so this is an easy alternative for using up that squash in a way that even company enjoys. It is easy, healthy, and can be made from ingredients you probably have on hand. Serves four
Ingredients: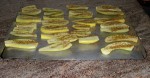 Cooking spray oil (spray olive oil is nice; no spray? Brush on some vegetable oil);
5 medium or 10 small yellow squash or zucchini;
Old Bay Seasoning (or other seasoning, for example, Italian Seasoning).
Directions:
Preheat the oven to 400.
Slice the small zucchini or summer squash vertically into 1/2 ' thick slices. If medium sized squash are used, cut in half horizontally first.
Place in a single layer on a cookie sheet sprayed with oil.
Sprinkle with Old Bay (or Italian Seasoning etc).
Bake in the oven for 30 minutes, turning at the end of 15 minutes, or until brown.