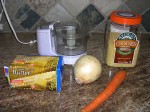 There are times during the summer that I have just one or two zucchini, not enough for the two of us, so I use this recipe with what I have. I especially like this recipe because it is easy, quick, can be made at the last minute, and leftovers can be turned into a salad by the addition of a simple vinaigrette. Yellow summer squash could be used too but the green of the zucchini skin adds color and eye appeal.
Ingredients:
2 tablespoons butter (or any oil but butter adds a nice flavor)
2/3 cup carrot (finely cut diced)
2/3 cup onion (finely cut diced)
2/3 cup zucchini (chopped)
salt and pepper to taste
1 ½ cups couscous
3 cups boiling water
1 tablespoon chicken bouillon or 1 bouillon cube (optional)
Directions:
Chop the carrot and onion in a food chopper (or by hand).
Heat 2 tablespoons of butter or oil in a fry pan until foamy.
Add the chopped carrot and onion and cook until soft (3-4 minutes).
Coarsely chop the zucchini and add to the carrot and onion mixture.
Add salt and pepper to taste but cut down on salt if you are going to add a chicken bullion cube to the couscous.
Cook 2 minutes more.
Remove from heat.
Add 3 cups of boiling water and 1 chicken bullion cube, to 1 ½ cups couscous in large heat proof bowl. Stir, cover, and let stand 5 minutes.
Fluff the couscous, stir in the vegetables, and serve.