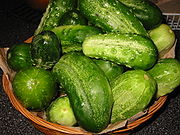 The cucumbers are overrunning my garden and no matter how many I eat there are more the next day. This is the time that I enjoy a daily cucumber salad and this recipe is one of my all time favorites. It is quick and easy to make, can be done ahead, is nice enough for company, and I often serve it with salmon but have taken it to picnics with success. People who like onion can have all they want from the bottom while people who have trouble digesting onion can take their helping from the top. The onion flavor permeates the whole salad.
Ingredients:
1 large cucumber peeled if skin is thick or wax covered.
1 large onion sliced very thin.
1 clove of garlic, cut.
Dressing: (see below)
Directions:
Rub a quart bowl with the garlic.
Place the sliced onion in the bottom of a bowl. Add the slices of cucumber.
Pour dressing over cucumbers, cover and chill at least 1 hour.
Dressing:
¾ cup sour cream.
2 tablespoons of apple cider vinegar.
1 teaspoon salt.
1 teaspoon sugar.
grind of pepper.
1/4 teaspoon dry mustard.
Mix all ingredients.