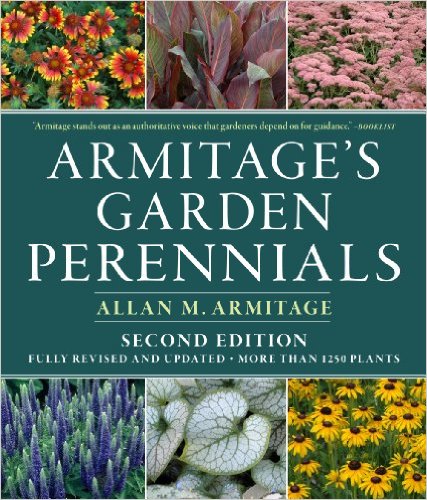 As more and more new cultivars and varieties of plants appear each year in nurseries, selecting perennials for the garden becomes increasingly difficult. A visit to a garden center can be a daunting experience as the masses of flowers seduce the eye with their beautiful colors. Impulse buying can be fun but it is usually unsuccessful in the long run leading to quick, short-lived color and a lot of money and effort spent. Research and knowledge about plants before buying offers a solution to the problem and Allen Armitage's book, Armitage's Garden Perennials is a good place to start.
An update of an earlier edition, this work includes descriptions of over 1200 of the best perennials including ferns and grasses, more than 300 of which new entries. Each entry includes a description and information on hardiness zones, cultivation, and growing habits. The relative merits of different cultivars and varieties are discussed and Armitage does not hesitate to give his frank opinion on the garden worthiness of the various plants. The author points out, for examples, that Ajuga reptans 'Sparkler' is interesting but …" looks like it is sick rather than handsome." With a gentler tone he notes that Achillea 'Martina' bears many flowers but the flowering stems are less upright than a similar selection. He warns the reader that the species and older cultivars of Brunnera marophylla may struggle in the South but that new ones like 'Jack Frost" and "Looking Glass" are more heat tolerant and can successfully be grown in the South. This kind of information is essential for the gardener when selecting perennials especially when buying from line sources that may be any place in the country and provide very general positive information. Lists of perennials for specific conditions and purposes such as drought tolerance, aggressiveness, and usefulness as ground cover round out the text.
Of special value are the abundant photographs. The flowers as well as the whole plant are included and more than one photograph of a plant is often provided. Flowers are usually the feature that makes the plant appealing to a gardener but realistically the whole plant should be taken into consideration during the selection process and the photographs in this book are invaluable in this regard.
Written in a very conversational style, the text is easy to understand and reads more like a guided tour through Armitage's garden. It is filled with anecdotes from the the author's vast experience which adds to the enjoyment of reading the book. For boning up on old and new perennials, Armitage's Garden Perennials is a valuable resource.
To buy Armitage's Garden Perennials from Amazon.com click here.