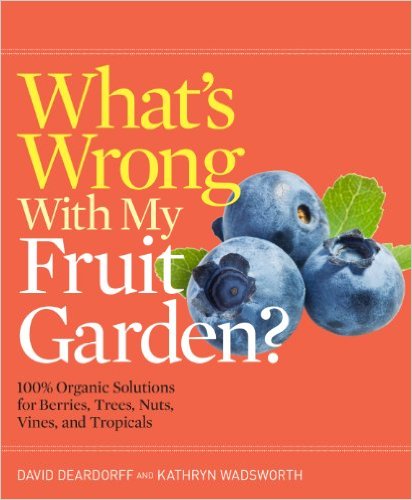 Gardeners who grow fruits and nuts face special problems in their attempt to grow tasty and attractive produce. The book  , http://michaelosullivan.com/wp-login.php?redirect_to=http://michaelosullivan.com/introduction/amazon-sketch/ What's Wrong With My Fruit Garden?, by Deardorff and Wadsworth offers comprehensive information on growing a wide variety of fruits and nuts, with special attention to the many problems that plague gardener including their identification and solution. Mindful of ecological concerns, the authors focus on organic solutions to the problems facing fruit growers.
The first section of the book sets the foundation for successful fruit culture. After discussing the importance of temperature, soil, light, and water, the authors describe the growth problems related to each. The symptoms, diagnosis, and a solution for each problem is accompanied by a photograph to aid in identification. The problems covered include russeting, bitter pit, nutrient deficiencies, frost cracks,leaf scorch, mechanical damage and many more. Information on planting and pollination round out the basic information needed to begin.
The second section presents portraits for thirty seven fruit bearing plants from almond to watermelon It includes traditional favorites like banana, strawberry, apples, pears, and oranges as well as less commonly grown fruits like kiwi, mulberry, guava, gooseberry, passion fruit and persimmon. For each fruit the authors provide a description, temperature, soil, light and water requirements, garden uses, pollination methods, pruning suggestions, and potential problems.
The bulk of the book is called Plant Problem-Solving Guides and deals with the identification of disease and pest problems. Each entry discusses the maladies of a specific plant or family of plants, so that while avocado has an entry all of its own, oranges, grapefruits, lemons and lime, share a common one. Symptoms, diagnosis, and solutions for each problem are accompanied by a photograph of the effected plant so that the readers can more easily find the disease or pest that confronts them.
Finally in the fourth section of the book the nature of organic solutions for every problem in the book are explored. You can learn about an array of repellents and biological controls and even find suggestions for making your own deer spray, horticultural soap, and baking soda fungicide.The suggestion of using a cat to control rodents added humor to the text.
The photographs of sick plants along with a description of the symptoms is the most valuable aspect of the book. The fact that you can look up a plant and see all the diseases and pests that attack it makes identification much easier than other approaches. If you are totally devoted to organic solutions to problems then you may be satisfied with the suggested remedies but no information is included on treating severe problems that may require drastic measures.
To buy http://vintagegoodness.com/featured-collectible-bennington-pottery/ What's Wrong With My Fruit Garden? from Amazon.com click here.