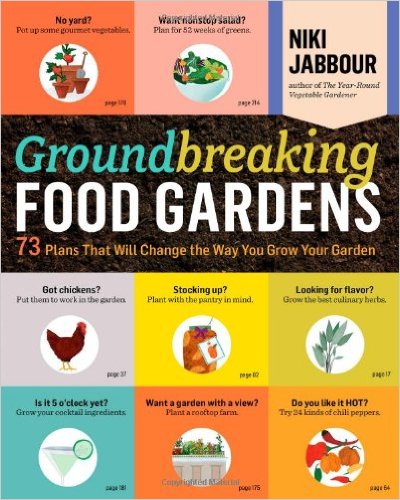 As more people want to grow their food the need for new methods and garden designs become more pressing. Niki Jabbour's book, Groundbreaking Food Gardens, presents a collection of essays on garden design gathered from seventy three garden writers, professional horticulturists, garden bloggers, managers of botanical gardens, and university staff living across North America and the United Kingdom. No matter where you live, how big your patch of soil. or what your special interests are, Jabbour's book will convince you that you can grow food plants. The sky is the limit when it comes to garden design and Jabbour's book will stimulate your imagination and get your juices flowing.
A whole chapter is devoted to each of the seventy three garden designs provided by the contributors. Each chapter presents a different garden and includes a design plan, plant lists, and the motivations and rationales behind the decisions involved in designing the garden. The gardens cover a wide range of possible situations and address common garden problems like lack of light or space, as well as providing for the needs of traditional gardeners or those that want something wild, fun, or just plain off-beat. Gardeners with limited space can glean ideas from chapters with gardens designs for a patio, balcony, roof top, hanging gutter or palette. The Elizabethan garden, Italian heritage garden, formal kitchen garden, heirloom vegetables and others provide a plethora of ideas for traditional gardeners while the curiosity of those with special interests might be piqued by the gardens highlighting figs, beer, chickens, garlic, hotdogs, cocktails, or bees. The gardens for 52 weeks of salad, schoolyards, good bugs, and fall and winter vegetables, and were especially appealing.
Written in an easy conversational style, the text is enhanced by colorful illustrations and an attractive format. Insets provide additional practical information on gardening while one page special features treat topics on edible gardening like living walls and lasagna gardening. The book is packed with ideas and makes good reading for the novice, expert gardener, or someone just interested in garden design and the creativity go gardeners.
To buy Groundbreaking Food Gardens from Amazon.com click here.