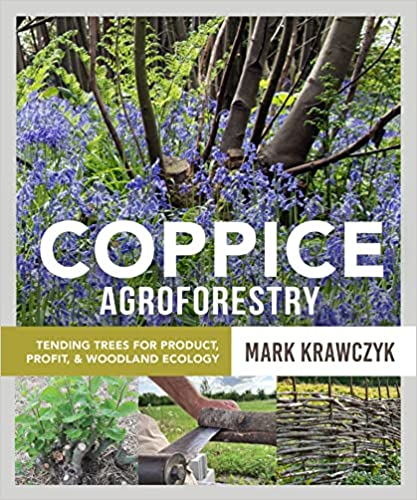 Coppice Agroforestry, by Mark Krawczyk, is a comprehensive guide to the practice of coppicing, a sustainable method of forestry management that involves cutting trees and shrubs down to near ground level, letting them regrow, and then harvesting them again in several years. Although an ancient practice, most Americans are unaware of coppicing as a management tool. This book aims to inform and inspire a new generation of woodland mananbbbbbbbbbbbbbbbbbbbbbbbgers by bringing together the existing literature on coppice systems, rural woodland-based economies, ecological design, and projected yields.
The book begins with a historical overview of coppicing and explains its use from prehistoric times to the present. Subsequent sections describe the benefits of coppicing, such as increased biodiversity and improved soil health, and describe different types of coppice systems with the benefits and drawback of various silviculture practices. A chapter on the economics of coppicing considers the many uses of coppice-grown materials from woodchips and fodder, to furniture making and arborsculpture, and suggests strategies for success. Other topics of interest include ecological design, methods for establishing coppice on a tract of land, and the management and harvesting of coppice tracts . A glossary, extensive bibliography, and two appendices conclude the work
Krawczyk writes in an easy to understand style and includes a lot of detailed information on the science behind coppicing, as well as on the needed tools and techniques, and the biology of the plants. He includes case studies that illustrate coppice-based endeavors, and enhances the text with many tables, graphs, diagrams, drawings and black and white photographs, with an inset of color photos. With its, practical tips and detailed information, Coppice Agroforestry is an excellent resource for practitioners, researchers, and anyone interested in the future of sustainable forestry.
To buy Coppice Agroforestry from Amazon click here.