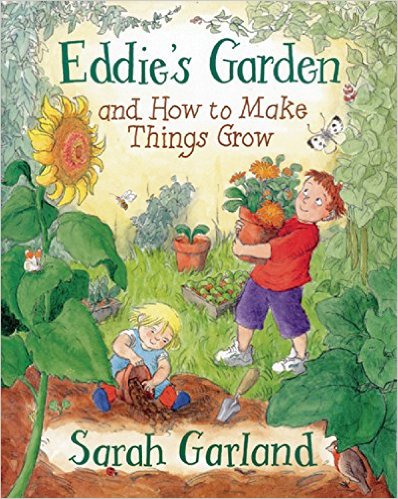 Involving children in planting a garden is a wonderful way of building family ties and inspiring a love of plants and growing flowers and vegetables. Sarah Garland's book, Eddie's Garden, follow the experience of one little boy and his sister as their mother helps them plant a garden. The children learn about the pleasures of raising their own food as well as the work involved. Written for children ages four to seven, the text is enhanced by watercolors created by the author.
Inspired by their mother's activities in the garden, Eddie and his sister Lily want a garden of their own and Mom quickly agrees. She takes them to a garden shop for seeds, soil, and flowerpots, and helps the children dig up the plot, plant the seeds, take care of the garden, harvest the produce, and enjoy their crops at a picnic. The children learn how to make a tepee den from sticks and bean plants and about the animals that also enjoy their garden. Eddie even goes an a nocturnal slug hunt. Throughout the book comic relief is provided by the antics of toddler Lily who dons a flowerpot for a hat at the garden shop, wants to eat the worms that appear in the garden, and digs up her newly planted pumpkin seed to see if it is growing. Every page is filled with activity as the youngsters pursue their goal of havig a garden.
The last four pages of the book are devoted to detailed information on having a garden like Eddie's. Directions are included for choosing seed, planting, and using carrots, lettuce, nasturtiums, onions, peas, pot marigold, pumpkin, runner beans, broccoli, sunflower, sweetcorn, and swiss chard. Additional information is given for choosing the site of the garden, preparing the soil, starting the seeds, and dealing with pests. A very down to earth book with plenty going on to keep kids engaged.
To buy Eddie's Garden and How to Make Things Grow from Amazon.com click here.