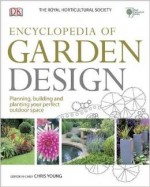 Whether you want to redesign an existing garden or create a whole new garden, The RHS Encyclopedia of Garden Design can guide you through the process. Filled with ideas and photographs of actual gardens from traditional to contemporary, high to low maintenance, calm and peaceful to highly energized, the book provides the information and needed to stimulate creativity, visualize a concept, and execute a plan to make your vision come to life. It demystifies the process of garden design by taking you through the stages of the design process allowing you to create develop a garden that will reflect your taste and satisfy your needs as well as your wants.
The book is divided into four major sections. The first covers the principles of garden design, and describes how they can be applied to personalize a design. It includes creating a plan, creating views and vistas, using the color, shape, and texture, choosing materials and plants, and examples of planting plans for various kinds of gardens. A case study of the creation of a design plan for a suburban garden located on a steep hill integrates the concepts presented.
The second section deals with garden styles providing the characteristics that define various kinds of gardens: formal, cottage, Mediterranean, modernistic, Japanese, foliage, productive (vegetable), family, sustainable, urban, country, and concept (art combined with plants). The presentation of each style includes the key design elements, photographs of actual gardens with planting plans and plant lists, and suggestions for gardens open to visitors. The examples are drawn from diverse places from Spain to UK, Brazil, Thailand, Australia, Morocco, and US.
For those that want to do-it-themselves, the third section presents directions for building garden structures such as pavements, paths, patio, deck, fence, gravel border, pergola, raised beds, and ponds. It also includes directions for laying a lawn, planting shrubs, trees, annuals, perennials, and climbers as well as suggestions for maintaining it all. Plant people will appreciate the fourth section, which consists of a plant and materials guide. Enhanced with many photographs the plant guide describes the plant and gives essential information on growing them. The materials guide describes and illustrates kinds of pavings, walls, railings, screens, gates, storage structures, and containers.
What a great resource for designing a garden! It contains a wealth of ideas presented through both words and illustrations. Explanations are clear and concise, and easy to read. As a combination of ideas for inspiration and practical considerations this book is tops.
To buy RHS Encyclopedia of Garden Design from Amazon.com click here.