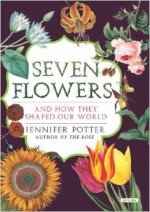 Author Jennifer Potter takes a unique look at seven flowers that have significantly influenced civilization for hundreds and sometimes thousands of years. The focus of her study is the lotus, lily, sunflower, opium poppy, rose, tulip and orchid. As a horticultural historian, she traces the role of each flower in human activity from its origins to modern times, paying particular attention to importance of the flowers in literature and art.
The stories of the seven flowers are informative and filled with surprises. Starting with the lotus we learn about their mythological power in India, significance in Buddhism, and influence on foot binding in China. The lily, known from the time of ancient Crete, was banned by the Church as being pagan before it became the symbol of the Virgin Mary. The common sunflower was cultivated in America long before Columbus arrived and was used by Aztec merchants in banquet rituals but had great appeal to Europeans as the works of Black and van Gogh can attest. The beautiful opium poppy native to the western Mediterranean was grown for its oil long before it became a drug of choice. The author considers the rose a chameleon because of its variable role in life from symbols of both chastity and sexual love, to an ingredient in perfume making, to cure-all medicine, The orchid, too, has been viewed in opposite ways; in Confucius' time it was known by a name referring to its fragrant flowers, while in the West the name "orchis", the Greek word for testicles, was applied. The tulip with virtually no utility caused the rise and fall of many fortunes in both Holland and Turkey all because of a virus spread by aphids.
Well researched and full of history, the book is very entertaining. The style is casual and the content is well chosen to tease the mind and delight the imagination. An excellent choice for readers who like history, plants, and a combination of the two.
To buy Seven Flowers: and How They Shaped Our World from Amazon.com click here.