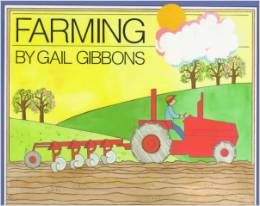 Children in the city often have no idea of how milk, vegetables and meat are produced and link it more to a store that the countryside. They don't know what a farm is or what goes on to produce the foods that they take for granted. Enter Gail Gibbons' book, Farming. It gives young children a comprehensive view of life on a typical family farm in the United States.
The text is organized around the seasons and the different natural and human events and activities that occur during each. In Spring we see that the ice melts, the days become longer, green leaves appear on the trees, and a chipmunk emerges from his winter home. The fields are fertilized, plowed, harrowed, and planted. Cows are milked, barn stalls are cleaned, and animals are cared for. In summer vegetables are canned and hay cut and bailed; in fall as the days become shorter and the trees turn gold and orange, corn and apples are harvested, and animals are taken to market. Winter brings time to repair equipment and planning for the next year. Each season has its special activities and these are shown by numerous bright colored illustrations with accompanying text. The final pages of the book show various specialized farms such as dairy farms, ranches and vegetable farms.
This is not a story book but rather a text to teach about farm life. The illustrations are the key to success and the text is secondary but helpful as a prompt in the teaching process. You don't have to wonder if the machinery being used is a harrow or a planter; it is identified in the text. The first picture for each season is especially fun to use as it is an overview of the farm during that particular season and provides lots of opportunities for interaction. This is a book with a lot of potential and I highly recommend it.