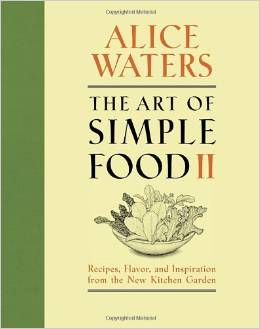 If you are tired of traditional cookbooks try Alice Waters' book, The Art of Simple Food II. Waters is a well known chef in Berkeley, California who has a special interest in growing her own foods as well as cooking them. Using the premise that we can preserve the land by nurturing the link between taste, cooking, and gardening she gives advice for growing your own foods and shares recipes that explore the subtle flavors and textures of different varieties of vegetables, fruits, and herbs.
The book is divided into two parts: the first focuses on flavors and recipes while the second is concerned with gardening advice. The flavors and recipes part begins with chapters on herbs, salad greens, and the onion family and continues with chapters on roots and tubers, stalk crops such as celery and rhubarb, beans, the squash family including cucumbers, tomato family plus corn and okra, chicories, fall greens, broccoli family, summer fruit, berries, autumn fruits and nuts, and citrus. A final chapter in this part gives directions for preserving vegetable and fruits and includes home canning, pickles, jams, candied fruit, liqueurs and dried fruits. Each chapter includes a description of the herb, vegetable or fruit, as well as advice on  its cultivation and recipes that take advantage of the unique qualities of the food. Waters points out the subtle differences in texture and flavor between cultivars so that you learn, for example, that' Bull's Horn' sweet pepper has a more pungent depth of flavor and is more complex than sweet bell pepper and is especially good in Italian and Spanish recipes. The numerous recipes that are included also explore texture and flavor as well as color and new food combinations and cooking techniques. You can try pounded almond and mint pasta sauce, fried rosemary. 'Little Gem' romaine wedges with fine herbes and shaved 'French Breakfast' radishes, or 'Yellow Fin' potato and black trumpet gratin.
The second part of the book and dealing with gardening techniques covers all the basics such as soil preparation, handling seeds and seedlings, composting, and harvesting. Of special interest to gardeners with little space available for a garden are the sections on worm composting, growing crops vertically, and container gardening. As in the first part of the book, this part is filled with anecdotes and stories that reveal the hands on experience and expertise of the author.
The whole book is written in an easy going style that reads more like a novel than a cookbook and it can be read cover to cover with enjoyment. The text is illustrated with drawings rather than photographs and the recipes are set out so that the ingredients are bold faced offset from the directions rather than listed at the beginning of them. Most of the recipes are simple to follow but the ingredients are challenging to find, at least in mid-North Carolina. Perhaps in Los Angeles I would have more luck but even there I suspect a hunt would be necessary fairly often. I cannot recall seeing miner's lettuce, green garlic, verjus, or Padron peppers in the markets where I shop but according to the blurb on the back cover of the book they can be found in local stores or farmer's markets, or are easily grown at home. Aside from the possible problems involved in gathering the ingredients for the recipes, the book offers an exciting approach to cooking with many taste treats that will make the hunt for ingredients well worth the trouble.
To buy The Art of Simple Food II: Recipes, Flavor, and Inspiration from the New Kitchen Garden from Amazon.com click here.