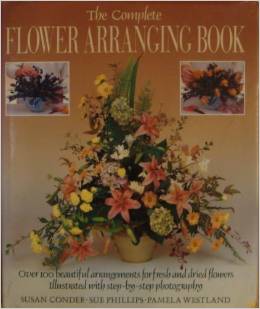 Whether you are a novice or experienced flower arranger, The Complete Flower Arranging Book by Susan Conder, Sue Phillips, and Pamela Westland, will add to your skills and increase your artistic sense. The book provides the basic techniques and principles of design to produce all kinds of flower arrangements from large formal ones to small casual ones as well as inspire creativity. Working with many different kinds of flowers, containers, and styles, the book presents a plethora of ideas that can be copied or used as a starting point for personal artistic expression.
Six chapters comprise the work and cover essential equipment, basic design principles, traditional techniques, innovative combinations of flowers, fruits, vegetables and other plant material, unique use of containers, and creative ideas for elegant dinner parties. A whole chapter is devoted to using dried flowers and includes drying techniques as well as innovative ideas for using dried flowers. The text is easy to understand and each chapter includes step by step instructions for producing the featured arrangements accompanied by photographs of each step.
The book is filled with colorful photographs showing many different arrangements and illustrating all the principles and skills discussed. The arrangements featured in the book reflect the English influence on flower arranging rather than the American and are classical rather than modern in conception. Using this book as a reference, you can be sure of getting a firm foundation in traditional skills and design.
To buy The Complete Flower Arranging Book from Amazon.com click here