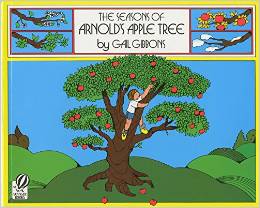 Apples are a favorite fruit of many children but do they know where they come from? Do they realize that apples grow on trees that bloom in spring? Probably not. And many young children only have a vague idea of the changes that occur in different seasons. This charming book, The Seasons of Arnold's Apple Tree by Gail Gibbons introduces young readers to seasons by following an apple tree throughout a whole year with the help of Arnold, a young boy that has an apple tree as his very own secret place.
Arnold's story is rich in content beginning in spring as buds develop into flowers that Arnold uses to make a wreath and brings home for flower arranging. Arnold enjoys his tree by making a swing and then adding a tree house by the time summer arrives. He notices that green apples begin to form and by fall have turned red and can be harvested. Arnold notices the leaves of his tree have turned golden and he collects them when they float to the ground and uses them in his tree house to soften the floor. The family makes apple pie out of some of the apples (recipe provided) and apple cider out of many of the others (details given on the working of an apple press). When winter comes and the limbs of Arnold's tree are bare, he decorates them with strings of popcorn and berries for the winter birds to eat. A snowfall prompts Arnold to build a snowman by his apple tree. When the snow melts spring returns.
This simple story and language say a lot. They suggest the pleasure of enjoying plants and the natural world as well as teach about the seasons and the yearly cycle of an apple tree. The illustrations are in bright colors and enhance the text with their pleasing shapes and layout. Written for children four to eight years old, it is especially relevant in fall when the new apple harvest makes its debut.