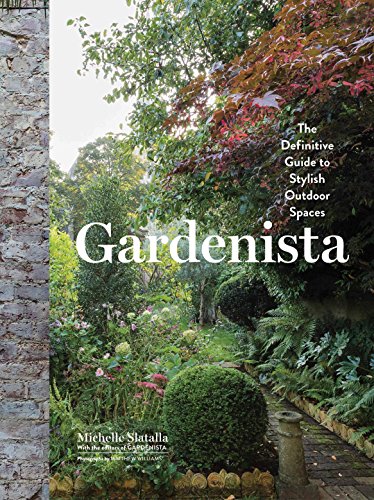 We are all coming to realize that outdoor spaces can be made into extensions of our home and thereby enhance the quality of our lives. Michelle Slatalla, in her book Gardenista, shows how you can do this. Taking a unique approach, she uses a plethora of photographs with succinct commentary to show rather than tell the reader how to create a stylish outdoor living space.
The first section introduces the reader to thirteen gardens that are favorites of Slatalla with brief comments on why they work. The gardens vary in style from untamed to English Cottage, to minimalist, and formal and are located in various parts of the US as well as England. The entry for each garden has numerous photographs showing the various unique features of the garden and ends with a section called "Steal This Look" highlighting some of the features that make the garden special and giving information on how to achieve them .
The second section of the book focuses on color and uses the same teach-by-picture method using a variety of gardens in various style and locations. The photographs of each garden show garden furniture and ornaments as well as plants, and are accompanied by tips on design and cultivation. Instead of a "Steal the Look' section, a "Cheat Sheet" is included giving suggestions for pre-planting preparation, hardscape materials, and plant choices.
Continuing in the same mode, the third section of the book presents eight creative ways to get more from your garden and includes ideas for such uses as an outdoor kitchen, playground, yoga studio, guest quarters, and chicken coop. The fourth section focuses on DIY projects and includes directions for such items as an outdoor worktable, flowerpot pendant light, and windproof outdoor tablecloth. Subsequent sections provide directions for extras like a dog-washing station, foot shower, and an outdoor laundry shed, and suggestions for paths and drainage facilities. A section entitled "The Gardenista 100" gives brief descriptions of favorite everyday objects from a French florists' bucket to all heal salve, Biergarten table, willow cloche, and flowering spring bulbs. Final sections provide tips from the experts on landscape and garden design and a list of suppliers for anything pertaining to gardens. Want a croquet set? You can find one at Jaques of London according to Slatalla's resource list.
If you are interested in the new look in garden design and like to learn by reading the captions that accompany pictures this is the perfect choice. You can effortlessly fill your mind with hundreds of images and let your imagination take over. There are more creative ideas shown in the book than in more traditional books and they are all just waiting to be picked up and made into your own.
To buy Gardenista from amazon.com Click Here.