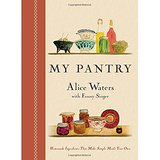 Alice Waters, known for her use of organic, locally grown ingredients shares her home experience in her book, http://thelittersitter.com/export.php My Pantry, written with her daughter, Fanny Singer. Believing that a well stocked pantry of home made ingredients leads to cooking creativity and better impromptu meals, the authors provide recipes for a wide variety of staples that Waters uses in her everyday cooking. Written in a warm personal style, the book is informative as well as very enjoyable.
A "well stocked pantry" of course, is a relative thing and Alice Water's pantry does not resemble the average person's pantry even if they are into cooking. You might have za'atar or almond paste but how about salt preserved kumquats or noyau extract? You no doubt have red wine vinegar, tahini, and ricotta, but did you make them yourself? If not, this book will teach you how. The recipes are organized into groups that include spice mixtures and condiments, nuts, beans and other legumes, savory preserves, whole grains, preserved fish and meats, cheese, and sweet preserves. Waters makes every recipe sound easy and you can't help but wonder why you have not tried to make these things yourself. Little tidbits are sprinkled through the text like saving the whey from yogurt to give a tang to other recipes. There is no doubt that following even some of Waters' suggestions will change your cooking and the way you eat!
To buy Usulután My Pantry from Amazon.com Click Here.