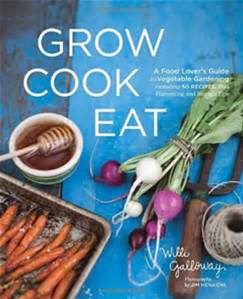 The joys of growing your own food are great but are enhanced when the fruits of your labor grace the table with a flare. Willi Galloway's book, Grow, Cook, Eat, offers a wealth of information that can inspire both the gardener and cook, introducing both to new ideas on raising vegetables, herbs, and fruits as well as new ways of using garden favorites. Starts with planting the garden, the book covers all the steps needed to provide delicious meals.
A chapter on gardening fundamentals covers the basic techniques of planting a garden including soil building, water-wise practices, fertilizing, and dealing with pests, diseases and weeds. Especially valuable are the lists of crops that are best direct sown and those that are best planted as seedlings. Other helpful sections deal with succession planting, extending the growing season, and storing left over seeds. Insets give additional information on topics like edible weeds, indicator weeds, and symptoms of nutrient deficiency.
The remaining eight chapters of the book focus on groups of crops: herbs, greens, legumes, squash family, cabbage family, roots-tubers-bulbs, warm-season vegetables, and fruits. Each chapter looks at individual food crops and gives directions for planting, growing, harvesting, storing, and cooking them. In addition, especially delicious varieties are recommended. The reader learns, for example, how to increase basil leaf production by proper harvesting, to grow spinach during the summer, and to enjoy the unique taste of mustard green flower buds. One of the most valuable features of each entry is the cooking ideas. Here is where Galloway introduces the reader to such treats as fried sage leaves on cornbread, carrot leaf pesto, and a roasted beet grilled goat cheese sandwich. Yum! A detailed recipe is also given for each food crops such as garlic scape pesto, open faced sandwiches of gruyere and radish greens, rhubarb chutney and strawberry-basil ice cream.
The text is written in an easy conversational style with the author drawing on her own experience to add depth to the presentation. Handsome photographs bring life to the recipes, show the author at work in her garden, and illustrate techniques described in the text. An excellent resource for any cook that grows her own food.
Buy Grow, Cook, Eat on Amazon.com