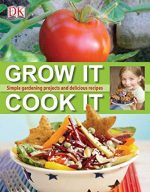 If you want to get children interested in eating more vegetables and fruits the DK book, Grow it Cook It, is a good place to start.  It involves hands on experiences with both growing and cooking edible plants beginning with an introduction to the basic principles of gardening from light, soil, water, and nutrient requirements to composting, and pest control. Moving on to the kitchen, it teaches some basic cooking skills such as grating, whisking, kneading, and baking and provides recipes for 15 common, easy to grow vegetables.
The entry for each vegetable has two parts: grow it, and cook it.  The first part of each entry details the steps in growing the plant from seed to harvest and includes details like providing supports, planting companion plants, and pinching unwanted shoots.  The cooking part of the entry provides recipes with step by step instructions enhanced by photographs for each including one of the finished dish.  Some of the tastiest treats are zucchini frittata, onion-leek soup, and spinach and beet green tarts, but the potato mice will win the heart of anyone!  Final sections provide more recipes and show how to collect seeds and save them for future crops.
The layout is simple and with many photographs accompanied by informative captions.  The directions are clearly written and keep safety in mind.  The vegetables can be grown in pots as well in a garden.  The recipes involve a variety of cooking methods and easy to find ingredients. Adult supervision is needed for almost all the activities in the book but will vary depending on the age of the child.
To buy Grow It Cook It from Amazon.com click here.