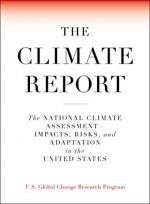 The Climate Report is the work of the US Global Change Research Program (USGCRP) that was established in 1989 as a result of an initiative of President Ronald Reagan.  It is mandated by Congress " to coordinate Federal research and investments in understanding the forces shaping the global environment, both human and natural, and their impacts on society" and  must submit their findings on global change every four years.  This is the first report of the USGCRP issued during the Trump administration.
The report focuses on the human welfare, societal, and environmental elements of climate change and variability for 10 regions in the US and 16 national topics, ranging from transportation and energy supply to forests and oceans. Each topic is introduced by several key messages that are followed by a discussion of the overall problem with graphical data and a link to a companion website with additional information.  The format for the entries by region is similar, with messages, graphical data, a discussion and link. The report concludes with 2 chapters on reducing risk and an appendix of frequently asked questions.
The report includes a huge amount of data accompanied by colorful graphs, maps, and photographs .  It is written in a clear mater-of-fact style that suits the subject matter but readers can add their own drama and emotion as they please.  If you want to get the official US Government report on global warming this is an excellent book to read.
To buy The Climate Report from Amazon.com click here.